Z Beast Zero Turn Mower Reviews Sep 2023
We may earn an affiliate commission when you buy through links on our site.
With all my years and experience in the garden care industry, I rarely came across a mower that comes with balanced power, precision, and control perfectly well.
Where one will boast amazing cutting ability while compromising on control, another will focus more on precision and maneuverability above everything else.
Hence, it's incredibly hard to find a mower that can cater to more than just a singular need and demand.
The Z Beast mowers, on the other hand, are not like the rest. They as versatile as they are easy to use, and they come with features that uniquely balance each other out.
They have grown to be one of my absolute favorites, and in my review today, let me show you why that was the case.
Z Beast 62 Mower Reviews Sep 2023: What did I like about the zero turn commercial mower?
Any mower can cut grass, and given enough time and patience they will be able to cut it exactly how you want it to as well. However, a great mower is something that not only can cut more grass in less time but also provide you with excellent cutting precision and easy to use controls.
So, let us get into a bit more detail as to what makes the Z Beast 62″ mower a must have for all gardening enthusiasts.
Great features at an affordable price
What makes the Z Beast 25 HP mower one of my absolute favorites is the commercial grade features it comes with but at a very affordable price. And amazingly enough, this mower fits both professional and domestic purposes just perfectly.
It has a Briggs and Stratton 25 HP Commercial Pro-Series Engine and a 12.1 cc variable displacement. There are also five piston pumps and 14.6 cc fixed displacement seven piston motor, which make this mower one of the most powerful grass trimming machines that you will find on the market.
Makes quick work of the toughest grass trimming job
Now imagine a large field full of very tough vegetation like Florida grass with a lot of obstacles and uneven ground strewn around. Such a setting in my experience always represents a tough job for me and my employees, and it can get significantly more complicated if we don't pick the right mower for it.
The Z Beast 62 was the right mower in all respects. It helped me go through a Florida football field in a matter of hours, whereas a more standard machine would have taken me 24 hours at the very least to get the job done.
The powerful Briggs and Stratton is not the only feature that contributes to the mower's fantastic grass cutting potential. The Z Beast has a 62 inches cutting deck as well, and this is what specifically allowed me to accomplish much more in lesser time.
The dual hydrostatic drive reduced the cutting time as well as providing me with a speed of 12 MPH which is quite astonishing for a mower of its class and bulky build.
Convenient to use with amazing maneuverability
The Z Beast 62″ mower has a battery featured electric start which will help you switch on the mower effortlessly with just the press of a button. The on-deck levers are ergonomic and very easy to use, while the patented soft start clutch and spindle brakes lower the chances of periodic maintenance and improve belt life.
Zooming around obstacles and treading over an uneven field is not much of an issue for the Z Beast. WIth 22″ x 10″ rear tires and 15″ x 6″ front tires, it offers excellent traction and makes it significantly easier to control the mower and makes for a very smooth ride on all forms of terrain.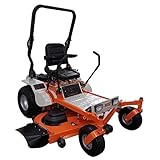 Last update on 2022-03-01 at 20:34 / Affiliate links / Images from Amazon Product Advertising API
So, on which aspects does the Z Beast fail to deliver?
When it comes to the cons, I find the Z Beast to fall short of my expectations in two significant areas, particularly fuel consumption and their customer support.
This mower will drink through a full tank of fuel in a matter of hours. Sure, it's a powerful machine, but it's hardly fuel efficient. Moreover, the Z Beast doesn't come with a fuel indicator mark as well, and I find that to be very inconvenient.
Secondly, the Z Beast doesn't come with all that well of a customer support help-line. When I was having specific maintenance issues with the mower, their support team took days to take the necessary actions. They were excruciatingly slow to reply to my queries, and it took them almost a week to answer some of my more pertinent questions.
Some questions I get asked frequently about the mower
Will I be able to attach a baggage system to the mower?
Yes, you can. You can also get a set of mulching blades and change them out whenever you want along with clamping on a roll bar.
Is this mower just for professional use or for domestic purposes as well?
The Z Beast is perfect for both actually. The ease of use and affordability is what makes it so appealing to the domestic sphere. However, due to the bigger cutting deck size, I wouldn't recommend it for small yards.
Pros
Pros
Cuts through tough grass extremely fast
Easy to use with ergonomic controls
Wheels have superior traction for improved maneuverability
Has a fantastic treading speed of 2 MPH
Cons
Cons
Eats through a full tank of gas very fast
Disappointing customer service
Z Beast 48 Mower Reviews Sep 2023: What did I like most about this product?
The appropriately named Beast is a heavy duty, super sturdy lawnmower that is durable as well as efficient. This model has a lot going for it, and you can bet that your garden will look nice and organized once you've taken this lawnmower out for a run.
So let's take a deeper look at this lawnmower and what makes it tick.
Super fast cutting speeds
This Z Beast 48″ lawn mower is equipped with dual heavy-duty hydrostatic drive systems which provide for super fast speeds and high torques in the category. This speed combined with the 48 inches mowing deck will ensure you finish mowing your lawn without any hitches whatsoever.
This speed is further enhanced by the super fast blades which rotate at 18,750 feet/min. I really liked the sound and the feel of the blades as they moved through whatever I put on their path.
Fastest moving mower
This lawn mower can go up to an astounding 10 mph, making it one of the fastest mowers on the market today. The 20 HP 656 cc Intek engine might seem like a little on the less powerful side, but it does a pretty good job of powering this lawnmower through pretty unforgiving terrain.
These high speeds along with the blade rotation speeds make for a very fast and smooth lawnmower, which is sure to free up a lot of time in your day.
Strong and low maintenance belts
The belts are made from top quality high-temperature rubber which ensures they will work perfectly for years to come no matter what you throw at them.
This model is outfitted with a soft-start clutch and spindle brakes which increase the lifespan of the belts by a significant amount. It also decreases the amount of maintenance required for this product.
Variety in cutting height choices
The mowing deck can be very quickly and easily adjusted. The height can be set to anything from 1.5 inches to 5 inches by 0.5 inch increments.
Whether you want your lawn trimmed down to the very roots like I do, or you want to have specific heights for the grass, this lawnmower does a great job of giving you both options.
Durable
The construction is super heavy-duty with an 11-gauge steel deck, along with 1/4 inch steel frame components. It even has a 7-gauge reinforced clutch plate that absorbs pulley forces.
This sturdy craftsmanship ensures that this lawnmower will serve you faithfully for years to come.
Special features
What I also really liked about this lawnmower is that it has a host of little tiny features which makes your mowing experience so much better and more enjoyable.
For example, it has a cup holder, headlights, an hour meter, pneumatic tires, rollover protection, a rust-resistant mowing deck, and swivel wheels.
Works straight out of the box
What I liked the most about this Z Beast 48″ mower was how practical the manufacturers were. There are plenty of mowers out there which require you to read through complicated manuals and then make elaborate assemblies. However, this one comes fully assembled and tested. All you have to do is put in some gas, and it's good to go right out of the box.
Last update on 2022-03-01 at 20:34 / Affiliate links / Images from Amazon Product Advertising API
What Didn't I Like About This Product?
Although this product has high-speed blades and really fast mowing speeds, you might require more than one run over to mow your lawn as fine as you want. The zero-turn steering on this lawnmower isn't that straightforward and might take some time getting used to.
Also, the suspension on this mower isn't that great, so you might find yourself having to contend with a few bumps and bounces if your lawn is uneven.
Unfortunately, this product isn't available for sale in California. So if you're a resident of California, you have to settle for something else.
Some Questions That I Am Frequently Asked About This Mower
Is it a commercial or a consumer mower?
It is rated as a commercial mower and has a commercial grade warranty as well.
What is the ideal lawn size for this mower?
The ideal lawn size is 2 to 4 acres.
How long is the warranty and how fast do you have to return it?
It has a 24-month commercial warranty, and the product has to be returned within 30 days if there is a problem.
Pros
Pros
10 mph forward speed
Fast blade cutting speeds
Low maintenance
Triple blade mower deck
11-gauge steel deck
Cons
Cons
Poor suspension
Hard to maneuver
Final Thoughts
With the low maintenance costs and amazing grass trimming speed, the Z Beast can indeed become a gardener's best friend. Not only will it make quick work of the toughest trimming jobs, but it is also powerful enough to breeze through the toughest of vegetation.
I hope you found my review today to be helpful.
Till next time!
Can't make up your mind yet? Read our buying guide for zero turn mowers before you proceed with your purchase.
You should also check out our reviews of other models: