Kobalt Snow Blower Review Sep 2023
We may earn an affiliate commission when you buy through links on our site.
The current snow blowing market is dominated by blower models which are incredibly powerful and best used for mid to large-sized fields and driveways.
So, finding a reliable blower for small yards tends to get rather difficult for many homeowners.
And in my experience, the Kobalt Snow Blower is one of the very few models on the market that can cater perfectly to the needs of smaller lawns and pathways.
It boasts both power and performance, and over recent months it has grown to be one of my favorite picks for all domestic snow clearing jobs.
So, let's take a look as to what makes this blower so very special.
Kobalt 80V Snow Blower Review Sep 2023: Why Buy This Product?
I chose to buy only the snow thrower because I have the required 5Ah battery and charger from other Kobalt equipment I use. so that helped me to save a couple of hundred bucks. If you want a snow thrower to clear light-to-moderate amounts of snow cover from your driveway or patio, Kobalt 80V is the ideal option.
Ergonomic Design
Unlike gas snow throwers, this model from Kobalt is lightweight and ridiculously easy to assemble and use. It only took half an hour for me to put it together and take it out for a test run. The crossbar control panel and the on-board LED panel allows easy and quick access to auger settings and battery level, respectively.
I liked the thoughtful inclusion of large rear wheels on this unit, which makes it easier to push it up a slope. It is safe to say that it is one of the most ergonomically designed single-stage snow throwers out there.
Operational Efficiency
Perhaps the most significant win-win feature of this snow thrower is how efficiently it gets rid of snow. I especially liked the brushless motor because it maximizes runtime and ensures a longer motor life. Moreover, the 180-degree rotating chute is perfect for removing snow from one side to the other without having to stop.
You will appreciate the thoughtful inclusion of a dual battery slot, which allows you to tackle more extensive snow removal projects without interruption. Also, the battery is straightforward to install and remove and does not take too long to charge.
Durability
One of the first things you will likely notice about this snow thrower is its exceptional build quality. Each part of this unit is made from high-quality materials, making it highly durable. In fact, I believe it is the sturdiest single-stage battery snow thrower in its price range.
Although the chute is made from plastic, it seems to be strong enough to withstand harsh winters and medium-scale snow removal tasks. Kobalt backs this model with an impressive 5-year limited warranty. And to top it all, it has a CSA safety listing!
Value for Money
Kobalt left no stone unturned to ensure that the users of this snow thrower derive the optimal value for money. If you don't believe me, look at the features like dual LED lights for nighttime operation or the fold-away metal handles for hassle-free storage.
And that's not all; it gives you a clearing width of 22 inches and an intake height of 13 inches, which is better than most of its similarly-priced peers. You can rest assured that you will get the most bang for your buck with this snow thrower from Kobalt.
Last update on 2022-02-28 at 21:05 / Affiliate links / Images from Amazon Product Advertising API
What Could've Been Better?
It is highly unlikely that you will find any piece of outdoor power equipment that will be flawless. Likewise, I couldn't help but notice a couple of downsides of this otherwise exceptional Kobalt snow thrower.
Although you get two speed settings for the auger, I would advise against using the high speed setting because it drains the battery way too quickly. I could not go through my three-car driveway on the high speed setting and had to recharge the battery.
Moreover, the advertised snow discharge of 30 feet is a bit of an exaggeration. It can throw snow as far as 15 to 18 feet, at best.
Pros
Pros
Offers great value for money
Easy to use controls
Highly durable
Dual battery slot is quite nifty
Cons
Cons
Battery drains quickly in the high speed setting
Advertised snow discharge isn't accurate
Kobalt 40V Snow Blower Review Sep 2023: Why do I recommend it for domestic jobs?
Hassle-free snow removal
Unlike most high-powered snow blower models, the Kobalt 40V gives me a lot of freedom to work with.
Its light and compact design allows me to easily maneuver the device around the yard, and get to those hard to reach places.
Bigger blowers rarely allow the user such mobility, and the Kobalt's portability is what makes it such a great pick for newer snow blower users.
The compactness prevents a lot of the mess which bigger blowers are prone to, and the snow clearing mechanism is clean and crisp.
As it's electric-based, the Kobalt produces no harmful fumes which the gas-based models do, so you will not have to worry about inhaling poisonous air that can make you sick.
Power and Reliability
The Kobalt 40V 12-inch cordless electric shovel is capable of producing a lot more torque and speed than most other electric snow blowers of its class.
Heck, I have even seen it outperform some of the standard gas models which are popular today and give them a run for their money.
The battery capacity is incredible, to say the least, and I was pleasantly surprised when I found the Kobalt to have the capacity to work more hours than I had anticipated it to.
The 2.5 Ah battery makes the blower capable of clearing out 2-car driveways with a full battery in almost no time at all.
The batteries are not just rechargeable, but interchangeable and have a lithium-ion platform with which I was always able to do more than I ever could with a standard blower.
And for an electric blower, the Kobalt has an incredible clearing width. It has a mouth space of 12 inches, and the augers are capable of lifting 15 pounds with every rotation, allowing me to make quick work of the thickest of snow beds.
Easy to use
The Kobalt snowblower is one of the few snow clearing devices which I recommend for newer lawn care enthusiasts.
It provides an easy start feature which will let you switch on the blower with just the press of a button even during the harshest of winters.
The lightweight and compact body will help you move the blower around wherever you want, and not cause your arms much exhaustion.
The cordless feature will allow you to clear snow far away from a power outlet, thereby making it an incredibly versatile device that meets any sort of snow blowing job at hand.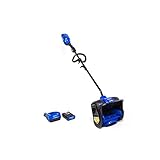 Last update on 2022-02-28 at 21:05 / Affiliate links / Images from Amazon Product Advertising API
What could have been better?
Though an amazing snow blowing device for smaller yards and driveways, not everything is perfect about the Kobalt.
It works wonders on a variety of snow beds but it tends to falter if the snow is wet and heavy.
I have often found the impeller to be clogged up, which I would then need to reach in to clean and free it up.
I have to remove the battery every time I do that, which is quite inconvenient and wastes a lot of time.
Pros
Pros
Lightweight and compact design which makes it easily maneuverable around a yard
The cordless feature lets you work away from a power source for an extended period of time
Easy to use and the perfect snowblower for newer users
Cons
Cons
Doesn't do all that well against wet, thick snow, which tends to clog up the impellers
Final Thoughts
If you're looking for an amazing snowblower that is lightweight and compact yet powerful, then the snow blowers from Kobalt might just be the perfect fit for your needs.
I love how amateur-friendly they are, so even if you're new to using lawn care tools, you will have no problems mastering the tools.
Can't make up your mind yet? Read our buying guide for snow blowers before you proceed with your purchase.
You should also check out our reviews of other models: