Champion Compact 2-Stage Gas Snow Blower Review
We may earn an affiliate commission when you buy through links on our site.
Compact, easy to use, and powerful snow blowers are not all that common, and I find them to be a rather rare breed.
So if you're searching for one such model which is capable of balancing the best of all worlds, then let me introduce you to the Champion 224 cc 2-stage Gas Blower.
This machine was able to help me with some of the latest snow blowing jobs and allowed me to breeze through thick layers of snow in no time at all.
This user-friendly and affordable blower model is the perfect pick for both domestic and professional users.
It has grown to be one of my absolute favorites, and I recommend it for all types of customers and yard structures.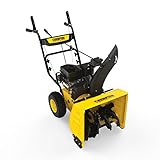 Last update on 2022-02-28 at 12:25 / Affiliate links / Images from Amazon Product Advertising API
Champion Snow Blower Reviews Aug 2023: What makes it so very special?
Power and reliability
With a 224 cc gas engine, the Champion snow blower is built to be a snow clearing machine that can go through thick layers of snow in the blink of an eye.
The engine is the most powerful of its class and makes the otherwise drudgery of blowing snow a very fun experience.
The engine comes with a convenient 120-volt push-button electric start as well. This makes the functioning easier and makes the machine a good pick for newer users who are not all that familiar with high powered gardening tools.
The start button helped me to adjust the speed and power of the Champion, allowing me to customize it to fit the needs of the job at hand.
This keeps the machine versatile and reliable enough to clear the snow from all types of yards, no matter their size.
Significantly more efficient
When compared to most of the oversized, high-powered snowblower models out there today, I can confidently state that the Champion is much more efficient.
It comes with an incredible clearing width of 24 inches and a clearing height of 21 inches, which helps it to clear snow from large fields in almost no time at all.
But what truly amazes me about the Champion is that it delivers everything that it promises.
Unlike some other snow blowers which promise a large clearing width but in reality offers much less than advertised, the Champion sticks to its guns and will give you exactly what it promises.
As it has a powerful engine, the higher clearance width makes it capable of handling snowfall, which is up to 12 inches deep.
The 12-inch carbon-steel augers cut through packed snow and ice effortlessly, while the high-powered impeller provides a clearing distance of up to 43 feet, which is quite amazing for a snowblower of its class.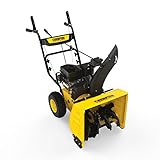 Last update on 2022-02-28 at 12:25 / Affiliate links / Images from Amazon Product Advertising API
Convenient starting options
I was able to start up the Champion snowblower with just the press of a button even during the harshest of winter mornings.
It comes with a 6 feet power cord which makes operating it easy on any sort of yard surface.
One additional perk that the Champion comes with is that it gives you the option of using a recoil start if you're working far away from a power source.
Compact and Long-lasting
The Champion comes with a small and compact body, which makes it significantly easier to store it in areas like garages and storage sheds.
It's made of high-quality materials as well, which makes the blower durable and capable of working at its best even when used repeatedly under the hardest of conditions.
What could have been better?
The only problem that I had with the Champion 224 cc 2-stage gas blower is with the assembly.
When it came to assembling the machine, the pack did not come with some of the bolts, which I required to put the blower together.
I had to frequently visit the hardware store to get the additional parts, and the 1-hour assembly process turned into a 3-hour one. But it wasn't exactly a deal-breaker.
Pros
Pros
Compact, portable, and easy to store body comes with durable features
A much more efficient design with great snow clearing width and depth
Powerful, reliable, and comes with a lot of convenient starting options
Cons
Cons
The pack is missing some of the assembly parts
Final Thoughts
With the Champion Compact Snow Blower, your traditional shovel is bound to collect dust as you clear up your lawn and driveway in record time.
It's easy to use, powerful, and an incredible value for money blower on the market today.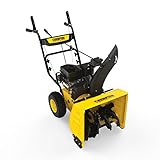 Last update on 2022-02-28 at 12:25 / Affiliate links / Images from Amazon Product Advertising API
Can't make up your mind yet? Read our buying guide for snow blowers before you proceed with your purchase.
You should also check out our reviews of other models: