Briggs & Stratton Snow Blower Reviews Sep 2023
We may earn an affiliate commission when you buy through links on our site.
I don't know about you, but no matter how beautiful and festive winter gets I can never really get myself to like the season much.
Perhaps it's the constant cold, and the desire to not get out of the bed even when I know that I have to, or perhaps it's the weight gain. But whatever the reason, winter and I clicked.
However, there is indeed one thing about winter which I do look at with utter distaste, and that is snow sheets on my driveway and yard.
The snow in my neighborhood falls for hours when it starts, and it creates thick sheets that only the toughest blowers can handle.
Briggs & Stratton is one such brand that manufactures blowers which I find to be perfect for the snow heavy days.
And in my review today, let me tell you a bit about it, and why it grew to be my personal favorite.
Briggs and Stratton 208cc Snow Blower Review Sep 2023: Why buy this product?
Living in Idaho Falls brings a fair share of winter challenges in the way of moderate to heavy snowfall. I used this snow thrower extensively to clear snow from my patio and driveway, and I was pleasantly surprised. No other single-stage thrower comes remotely close to this beast of a machine from the reputed brand of Briggs & Stratton.
Powerful Performance
First and foremost, I want to talk about the powerful punch this snow thrower packs! It comes equipped with an impressive 208cc Briggs and Stratton 950 Snow Series 4-Cycle OHV engine. If you want more specific numbers of its power, it provides a torque of 9.5 foot-pounds.
The auger-assisted drive system of this unit is good enough to take it up to moderate slopes, and it is powerful enough to throw snow up to 30 feet away. As long as you do not try to remove heavy, wet snow, this snow thrower will not disappoint.
Operational Efficiency
This snow thrower comes with a clearing width of 22 inches and an intake height of 12.5 inches. I have used it for removing six to eight inches of snow till now, and it has worked like a charm!
Moreover, you can manually rotate the chute 200 degrees across with the rotation handle. And if you want to change the height and distance at which snow is thrown, you can do it with a simple squeeze of the quick deflector on the handle.
Unlike the majority of snow throwers out there, this one clears snow down to the pavement without leaving any residue.
Ease of Use
When it comes to being user-friendly, only a handful of snow throwers out there come remotely close to this exceptional model from Briggs & Stratton. I was impressed by the thoughtful inclusion of oversized controls to help with smooth operation while wearing mittens.
Furthermore, the convenient push-button electric start feature ensures that you do not waste precious time and effort to get this thing to run. Also, the electric start feature works fine even in temperatures as low as -20°F.
And did I mention how easy it is to maneuver this snow thrower, thanks to its compact size?
Durability
I am a big fan of this snow thrower because of its durability. The one-piece auger housing has ball bearings to enhance the useful life of this machine. Moreover, the auger is made from wear-resistant thermoplastic urethane. However, please do not jump to conclusions about its plastic chute; I can tell you from experience that it is sturdy enough to last for years.
The 8-inch by 2-inch wheels on it work perfectly and keep it balanced. Briggs & Stratton backs this model with an impressive limited warranty of three years, and it is CE compliant.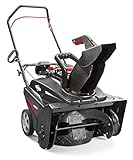 Last update on 2022-02-28 at 13:00 / Affiliate links / Images from Amazon Product Advertising API
What Could've Been Better?
As good as this snow thrower is, it is not perfect. There are a couple of things about it that need to be improved. First, the assembly instructions were not clear, and I think it is because the instructions for several variants are jammed into it, making it confusing.
Second, the dipstick for ascertaining the correct oil level is poorly made. I ended up guessing the oil content initially, and then I slowly got used to it.
These downsides are not deal-breakers, but Briggs & Stratton should undoubtedly improve them.
Pros
Pros
Excellent performance
Reliable and comes with 3 years warranty
Oversized controls are very easy to use
Cons
Cons
Dipstick quality could be better
Assembly instructions aren't very clear
Briggs and Stratton 1696619 Review Sep 2023: What did I like about it?
What makes the Briggs and Stratton 1696619 Snow Blower such an amazing choice is its 2 stage feature. When it comes to some of the more functional features, there is a lot of difference between a single stage and a dual stage snow blower.
The dual stage in my experience can be used in a variety of different surfaces on which the single stage cannot easily tread on. They are also self-propelled and can get the work done much faster even in the harshest of weather conditions.
But even in the category of dual stage snow blowers, the Briggs and Stratton 1696619 is still a class apart when it comes to these aspects:
Power and reliable snow blowing
The Briggs and Stratton comes with an extremely powerful 250 cc engine that supports a gross torque of 11.5 ft-lbs under its hood, which is quite a lot for a blower of its class.
This is what allows the machine to plow through the thickest of snow beds in just a matter of hours even if the environmental conditions are excessively harsh.
I have yet to run into a single problem with this mower, but there were moments when the gears and chute started to jam when the temperature fell around 20 degrees below zero.
Can deal with a large capacity of snow
The clearing width of the Briggs and Stratton 1696619 is quite massive at around 27 inches. So, it will be able to clear out big chunks of snow with every pass and can get your driveway to look neat and tidy much faster.
Another amazing aspect of the mower is that it has an intake height of 20 inches which is significantly more than what a lot of its competitors provide. As a result, the blower will be able to handle snow even if it has been building up for days.
The auger and the impeller blades of the blower are 12 inches in diameter and with so much snow that it's dealing with at the same time, it can launch the debris as far as 40 feet depending on the conditions.
Unique Drive System that allows Multiple Speeds
Not many snow blowers designs will allow you to change the speed of the machine to suit the surrounding snow conditions. However, the Briggs and Stratton 1696619 is one of the more versatile snow blowing machines out there and is equipped to cater to a variety of user needs and demands.
It comes equipped with a "Friction Disc Drive System" that will allow you to crank up or down the blower whenever you feel like. If there is light snow you can reduce the speed of the blower to suit the job at hand; if there are incredibly thick blankets of snow, then you can always increase the blowing speed as you see fit.
Convenience and Ease of Use
I hate snow blowers which do not come with an adjustable chute. Snow isn't the only thing that the blower will propel out, as there will be a lot of debris like wood chunks and rocks that will shoot out of it every now and then as well.
Hence, if the mouth of the chute is facing the wrong way or even facing a direction which you do not want it to, then this can lead to a lot of accidents and even injury if you're not cautious of it.
This is precisely why the Briggs and Stratton 1696619 comes with adjustable chute settings and will allow you to have complete control of the discharging snow at all times.
What about the Briggs and Stratton 1696619 that could have been better?
There are just a couple of gripes that I have with the Briggs and Stratton 1696619 Snow Blower; this machine fails to impress when it comes to:
The Power Drive
It's true that the blower can plow through thick levels of snow especially because of the powerful engine and the speed adjustment settings. However, if the snow that it's going over has a lot of unwanted debris, then its power drive will need a little manual push from time to time or the blower will start to get stuck in the snow.
The exhaust shoot
I had to add a couple of washers to the exhaust shoot adjustment as I wasn't able to tighten the bolts and nuts that were provided. As a result, they were bottoming out and becoming loose the more I used the blower.
Sale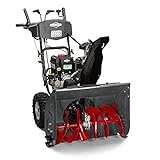 Last update on 2022-02-28 at 13:00 / Affiliate links / Images from Amazon Product Advertising API
Pros
Pros
Powerful engine that treads over any terrain
Adjustable chute settings for user safety
Easy to use, starts at the push of a button
Customizable speed variations for improved versatility
Cons
Cons
Can need a push from time to time on debris-filled snow
The provided nuts of the exhaust shoot can get loose
Final Thoughts
If you're looking for an extremely powerful snowblower that can tread over any type of terrain, then the snowblowers from Briggs & Stratton can be a perfect choice. Not only are they versatile in its ranges of use but they are very easy to operate as well.
Can't make up your mind yet? Read our buying guide for snow blowers before you proceed with your purchase.
You should also check out our reviews of other models: