PowerSmart DB2401 Lithium-Ion 40V Cordless Snow Blower Review
We may earn an affiliate commission when you buy through links on our site.
Are you still breaking your back shoveling snow out of your patio, driveway, and sidewalk? You should get the DB2401 Electric Snow Thrower from the reputed Powersmart brand.
Removing unwanted snow from around my house always felt like a tiresome and annoying winter chore. But that was before I did some research and found this fantastic snow blower. Clearing snow from my driveway and sidewalks feels like a breeze now!
You can find a plethora of snow blowers in the market from various brands. But take my word for it, you will not find a more efficient machine in the price range of the DB2401. That is the most significant reason I have for recommending it – it gives you the most bang for your buck!
Today, I am going to tell you why you should buy the Powersmart DB2401 snow blower.
Sale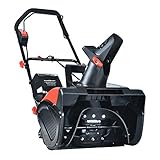 Last update on 2022-02-28 at 13:08 / Affiliate links / Images from Amazon Product Advertising API
PowerSmart Snow Blower Review Sep 2023: Why do I like it?
I have used the DB2401 Electric Snow Blower extensively throughout winter. There are many features of this machine that make it an excellent purchase. Here are some of the things that made me fall in love with this snow blower:
Compact size
Storing outdoor equipment when not in use can be cumbersome. I especially liked the small size of this blower which makes it convenient to store. You will not have to block a considerable part of your garage in the non-winter months.
Its compact size and lightweight build also aid in moving it around smoothly. The assembled unit measures 21 inches long, 19 inches wide, and 20 inches high. It weighs less than 40 pounds. Lending it to your neighbors is not a cause of concern because of its portable build.
Ergonomic Design
What makes this blower outstanding is its ergonomic design. The chute handle allows you to rotate 180-degree easily, so you can throw snow in any direction you want to. The handle comes with a foam-coated, user-friendly hand grip that provides top-notch comfort.
The handle is designed to enable easy maneuverability. The powerful auger, along with a thoughtful chute direction and angle allow you to throw snow about 25-30 feet away. I especially liked the fact that this blower makes negligible noise – you can go around removing snow without disturbing people.
Powerful Performance
I was a bit skeptical about this blower's performance, considering its price. When I used it for the first time, I was pleasantly surprised. It comes equipped with a powerful 120V, 60 Hz, 13-amp electric motor.
Do not be fooled by its small size. This blower can quickly clear snow up to 18 inches wide and 8 inches deep in one go. If some reviews are to be believed, the DB2401 works better than most 15-amp and 18-amp blowers out there in the market.
You will appreciate the top-notch performance of this powerful machine each time you take it out to clear snow.
Easy Installation and Maintenance
I took a little over 35 minutes to assemble this blower after unboxing it. The installation process is quick and straightforward:
Put together the handle and attach it to the unit
Attach the chute to the top of the unit
One of the primary advantages of using an electric snow blower is its hassle-free maintenance. It eliminates the possibility of gas leakage and offers unparalleled convenience in the long run.
To ensure its long-lasting performance, I recommend following the included instructions carefully. Do not use it for more than half an hour at a time to give it time to cool down and avoid overstraining its engine.
Sale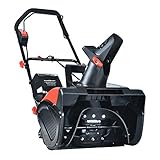 Last update on 2022-02-28 at 13:08 / Affiliate links / Images from Amazon Product Advertising API
What could've been better?
A perfect machine does not exist, especially when it comes to outdoor tools and equipment as there is always some room for improvement. These downsides are not significant enough to make the DB2401 a lousy product; instead, they highlight the few quibbles I have.
Handle height
The handle of this blower is about 33-34 inches high from the ground. I found it to be slightly short, especially for tall people like myself. If only the handle height were adjustable!
Wheels
The small plastic wheels of the blower tend to collect snow, which makes it a hassle to push it. I found myself breaking and chiseling snow off from the wheels quite often.
Pros
Pros:
It is equipped with a durable auger and a 13-amp motor
It features effortless 180-degree chute rotation
It comes with easy-to-follow installation and operation instructions
It has a one-year limited warranty
Cons
Cons:
It has limited usage and cannot remove deep layers of heavy, wet snow
The cord can sometimes get in the way; you may have to obtain a suitable extension cord
Verdict
Keeping all of the DB2401 blower's benefits and shortcomings aside, it is only suitable for places that experience light to moderate snowfall. The machine is not built to tackle dense and deep layers of snow. Before you buy it, I advise you to ensure that you will be able to make the most of your purchase.
WIth that being said, my experience with clearing about 7-8 inches of snow has been nothing short of excellent.
Sale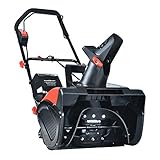 Last update on 2022-02-28 at 13:08 / Affiliate links / Images from Amazon Product Advertising API
Can't make up your mind yet? Read our buying guide for snow blowers before you proceed with your purchase.
You should also check out our reviews of other models: