Dirty Hand Tools 103880 Self-Propelled Electric Start Snow Blower with Tracks Review Sep 2023
We may earn an affiliate commission when you buy through links on our site.
The harsher the winter months, the more difficult it gets to keep our beloved lawns clean and snow-free.
So during the heaviest of snowfalls, we all need a reliable and powerful machine that is capable of cleaning out large areas of snow effortlessly.
And in all my experience in the field of lawn care, I have yet to come across a snowblower which is as powerful and as reliable as this one from Dirty Hands Tools.
This incredibly powerful machine helps me to plow through thick layers of snow without much effort.
It has grown to be a steady companion for my company, and my employees just love using it whenever they have a very difficult snow clearing task at hand.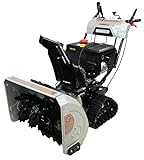 Last update on 2022-03-02 at 17:29 / Affiliate links / Images from Amazon Product Advertising API
Dirty Hand Tools Snow Blower Review Sep 2023: Why do I love it?
A snow clearing beast
The DHT blower is by far one of the most reliable professional-grade snow blowing tools out there.
It comes with an incredibly powerful 302 cc DHT engine that is capable of supporting a clearing width of 30 inches along with an intake height of 20 inches.
This powerful performance capability is coupled with a very durable and long-lasting body that carries a set of all-steel augers.
The 3-blade impellers are quite powerful and efficiently remove thick snow layers in almost no time at all.
It makes short work of deep snow, ice and even crut, and will enable you to not just clean up your yard but your sidewalks and driveways as well.
Affordable with high-quality features
The DHT blower comes with special heated handgrips and LED lights which are often found in the more expensive blower models.
Therefore, at the cost that the DHT comes in, you will be getting a great value for money tool which is bound to help you out no matter the weather.
While the hand warmer is going to save your fingers and palms from frostbite, the LED lights, on the other hand, are going to keep you safe if you choose to work at night.
There were times that I had to work late into the night during difficult assignments, and the LED settings of the blower helped me out a lot during those times.
Another aspect of this blower which I absolutely love is the variable speed settings. As it comes with 6 forward and 2 reverse speed settings, it will allow you to customize the power and speed of the blower to meet the job at hand.
The chute is capable of making a 190-degree quick-turn as well, which honestly helps to speed up the entire process and helps you to get a large field snow-free in no time at all.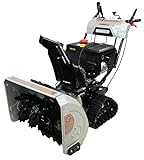 Last update on 2022-03-02 at 17:29 / Affiliate links / Images from Amazon Product Advertising API
Durable and ease of use
The DHT blower comes with a lot of durable features that keep the tool performing at its best for a long period of time.
It is designed with hard-wearing composite skid shoes, which incorporates a sort of a beveled edge that prevents any damage that the tool can face on an uneven surface.
It also reduces hang-ups and keeps the blower even on the roughest of surfaces.
This blower starts very easily, and you can activate it effortlessly with the push of a button. But apart from the 110V electric start, the DHT comes with a manual recoil start as well, and you can work with it if you're not near any electric source.
What could have been better?
The major issue that I have had with the DHT snowblower is with the assembly.
The holes in the chute of the blower are drilled in incorrectly. Though it was able to turn left easily, it wasn't able to turn right all that freely.
I had to drill further and fix the holes myself, and it was only then that I was able to successfully assemble it.
Pros
Pros
An incredibly powerful machine that can go through thick snow layers effortlessly
It comes with high-quality features but at a very affordable cost
Easy to use and has a lot of durable and long-lasting features
Cons
Cons
Assembly is difficult as the chute hole is drilled incorrectly
Final Thoughts
The Dirty Hands Tools is one of the very few snow blowers in the market which perfectly balances both power and performance. It's easy to use and affordable with some of the best features that you will find in the market today.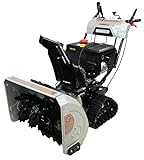 Last update on 2022-03-02 at 17:29 / Affiliate links / Images from Amazon Product Advertising API
Can't make up your mind yet? Read our buying guide for snow blowers before you proceed with your purchase.
You should also check out our reviews of other models: