Craftsman Zero Turn Reviews Sep 2023
We may earn an affiliate commission when you buy through links on our site.
Can you find a lawnmower that can help you avoid hiring a professional landscaper? Is it possible for you to get rid of unwanted grass in the lawn?
Finding an efficient lawn mower is all it takes for you to be self-sufficient for perfecting your lawn. Lawnmowers come in a wide array of shapes and sizes with varying functions and features, and across a diverse price range. And finding the best machine for your garden maintenance endeavors can be a challenge.
I have shortlisted the Craftsman Z560 Riding Lawn Mower as one of the best options for you to consider.
And today, I will give you an in-depth review of this exceptional lawnmower from the famous Craftsman brand.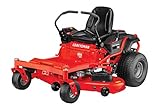 Last update on 2022-02-28 at 17:59 / Affiliate links / Images from Amazon Product Advertising API
Craftsman Z560 Review Sep 2023: Why do I like it?
I have a large lawn, and a walk-behind mower does not make a viable option. If you have a large yard, you do not want to be walking around all morning and mowing the grass. When it comes to riding mowers, the added convenience and speed is a significant blessing!
Here is a list of the win-win features of the Z560 mower you will appreciate:
Ease of Use
The first thing I noticed and liked about this excellent lawn mower was how easy it is to use it. It was designed to give you the best mowing experience. There are several top design highlights of the Z560 mower to appreciate.
It has a 54-inch cutting width and deck wash. I especially liked the fact that it features a 360-degree turning radius, which offers excellent maneuverability. And it even comes with a high-back cushioned seat to provide maximum comfort to the operator.
The Craftsman Lawn Mower provides optimal ground clearance with its sturdy 11-inch front and 20-inch rear wheels. And another nifty feature which I absolutely adored is the Ready-Start feature which allows you to start the mower quickly without any hassle.
Powerful Performance
The Z560 comes equipped with the powerful 24 HP Briggs & Stratton gold twin-cylinder gas engine, which is powerful enough to tackle most of your lawn mowing projects.
I especially liked its dual hydro-gear EZT drive system which comes with easy-to-control dual levers. It can turn around at sharp angles, allowing for unparalleled maneuverability around obstacles like flower beds, trees, and rocks.
It is also backed by a 2-year limited warranty, which goes to show that it is built for long-lasting performance.
Operational Efficiency
Mowing a large lawn can be challenging, especially if you do not have the right tools and equipment to get the job done. With the Z560, that's one less thing you need to worry about as it offers top-notch operational efficiency.
It has an adequate cutting deck of 54 inches, allowing you to cut, trim, and clip a vast stretch of grass in a single sweep. The included deck wash allows for easy underside cleaning, which can save a ton of your time.
You can even mow your lawn in reverse – grass removal does not stop when you go reverse.
Value for Money
Riding mowers are the most expensive type of lawn mowers out there. A common mistake made by beginners is paying a fortune for what looks like a top-notch machine but fails to deliver. The Z560 is immune to that fallacy, providing incredible value for money. I recommend this machine because it will surely give you the most bang for your buck.
It also has an optional mulching kit if you want to get that. There are very few lawn mowers that can compete with the Z560 in terms of features, especially at its price.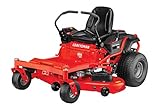 Last update on 2022-02-28 at 17:59 / Affiliate links / Images from Amazon Product Advertising API
What could've been better?
I have used the Craftsman Z560 Riding Lawn Mower extensively for over a year. After several lawn mowing tasks, I could identify a couple of aspects of this machine that can be improved considerably.
I wish it had a cruise control feature to lock in ground speed. Mowing a large lawn usually requires going at a consistent pace, and a cruise control option would significantly add to this machine's utility.
Apart from that, I believe it should have an hour meter to indicate how long it has run. This feature can be quite useful in case you're planning to use the mower for commercial tasks.
Pros
Pros
It is straightforward to maneuver, especially around flower beds and trees
Its high-back cushioned seat is thoughtfully designed to provide maximum comfort
It is backed by a 2-year limited warranty
It comes equipped with the powerful 24 HP Briggs & Stratton Ready-Start gold twin-cylinder gas engine
Cons
Cons
It is far from portable and takes considerable storage space
Verdict
The Craftsman Z560 Riding Lawn Mower is the best option for you if you have a large lawn. It provides optimal efficiency and control for getting your yard in perfect condition. Its exceptional maneuverability and cutting width ensure that your lawn mowing tasks are accomplished quickly and conveniently.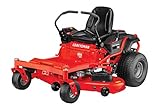 Last update on 2022-02-28 at 17:59 / Affiliate links / Images from Amazon Product Advertising API
Can't make up your mind yet? Read our buying guide for zero turn mowers before you proceed with your purchase.
You should also check out our reviews of other models: