Snow Joe Cordless Snow Blower Review Sep 2023 – iON18SB Cordless Single Stage
We may earn an affiliate commission when you buy through links on our site.
Snow blowers today come in a variety of shapes and sizes, each boasting a unique set of features.
While one is designed to support power over anything else, another specializes in convenience, ease of use and utility.
So, if by chance you're looking for an eco-friendly snow blower for your home's deck and sidewalks, then I have just the right model for you!
The Snow Joe iON18SB Snow Blower has of late grown in popularity among homeowners whose neighborhood sees light to mid levels of snowfall every winter.
It is light, easy to use, compact, and comes with a vast array of features that are bound to suit a variety of customer needs and demands.
And in my review today, I'll be taking you through some of the aspects of the iON18SB and show you why this can be the product of choice for you as well.
So, sit back and read along!
Sale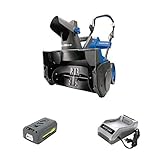 Last update on 2022-02-28 at 13:00 / Affiliate links / Images from Amazon Product Advertising API
Snow Joe iON18SB Review Sep 2023: Why do I like the iON18SB so much?
Reliable Snow Blowing Power
In my eyes, consistency and reliability are perhaps two of the biggest perks of the Snow Joe iON18SB snow blower.
As the newest addition to the Snow Joe line up, the iON18SB comes with a heavy-duty steel auger along with 2 rubber blades that helps it to move up to 500 pounds of snow every minute. And though this electric snow blower may not boast as much power as that of the gas based models, it is still reliable enough to clear a path which is 18 inches wide and 8 inches deep with every pass.
The iON18SB is just perfect for removing snow from around sidewalks and decks. It has a rubber scraper bar incorporated into its design which specifically makes the blower extremely deck-friendly. This scraper forms a sort of a buffer layer that protects the deck floor and pavement from damage while the blower is still clearing the snow right off the ground.
I've been using the iON18SB for some time now during light snow showers, and I must say that it indeed is an extremely reliable snow blowing machine.
Lightweight Body and Easy to Use
One advantage that electric snow blowers have over the gas based models is that they are significantly lighter. They are also easier to use and can be very easily maneuvered around any obstacle.
The iON18SB is one of the lightest snow blowers that you'll find in the market. And apart from this light build, it even comes with a convenient "Cord-free" operation that allows me to use the blower as far away from a power source as I want for about 50 minutes.
It comes with a 40-volt rechargeable battery which runs without a single sound. I have a very noise sensitive neighborhood, and there are days when running a gas powered snow blower through my driveway is simply not an option.
The iON18SB comes quite handy on those days. It is incredibly easy to use and starts almost immediately at just the push of a button. No more do I have to yank on a chain repeatedly hoping that the machine would finally start, which is generally the case with the gas blowers.
Eco-friendly and Overall Convenience
It goes without saying that when compared to the oil and gas-powered snow blowers, the electricity based iON18SB is indeed a more environmentally conscious option. It hardly produces any harmful emissions, and you won't have to worry about refueling it constantly after just a few hours of use.
Its steel augers and motors are significantly easier to clean as well. Maintenance will not be an issue, and neither will you have to call on the company's service engineers every 6 months.
Unlike the gas blowers, the clogging of the mechanisms of the iON18SB is at a minimum as well. It comes with a 180-degree auto-rotate chute that rotates instantly with just the push of a button and will let you throw the snow to up to 20 feet in any direction you choose.
For nighttime snow blowing sessions, the iON18SB also comes with an integrated LED headlight that grants excellent visibility in low light settings.
Sale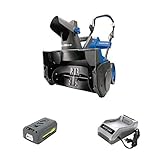 Last update on 2022-02-28 at 13:00 / Affiliate links / Images from Amazon Product Advertising API
What about the Snow Joe iON18SB Cordless Single Stage Snow Blower that could have been better?
When it comes to the cons, every snow blower has them. No machine can be perfect, and so here are some of the aspects of the iON18SB which I think that Snow Joe should improve upon:
The Chute is not always reliable
Though most of the time the discharging chute will be able to propel the snow up to a distance of 20 feet, there can be moments, especially during very light snow when it propels up to just 2 feet. I think this is something that has to do with the volume of snow which is being discharged, and before a particular volume threshold, the chute just propels it up to 2 feet.
Not recommended for very heavy snow days
The Snow Joe iON18SB blower is not as durable or even as powerful as the gas based models, hence clearing out heavy layers of snow with it can take a very long time. Moreover, using it constantly for hours can take a toll on its overall structure as well, and its parts can show signs of wear as a result.
Pros
Pros
The lightweight build makes the blower easy to carry around and use
Eco-friendly blower produces no harmful emissions
Perfect for blowing snow off of sidewalks and decks
Very easy to maintain and clean
Cons
Cons
The chute can fail from time to time
Not as powerful or as durable as gas blowers
Final Thoughts
When it comes to the field of snow blowing, the market has a variety of models to choose from. But out of all the blowers, the Snow Joe iON18SB stands apart, and it's all thanks to its easy to use features, lightweight build, and overall reliability.
Sale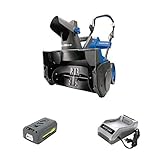 Last update on 2022-02-28 at 13:00 / Affiliate links / Images from Amazon Product Advertising API
Can't make up your mind yet? Read our buying guide for snow blowers before you proceed with your purchase.
You should also check out our reviews of other models: