Best Riding Lawn Mower For The Money Feb 2021
We may earn an affiliate commission when you buy through links on our site.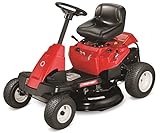 Last updated on 2021-02-11 at 06:37 / Affiliate links / Images from Amazon Product Advertising API
Taking proper care of the ever growing grass and unwanted vegetation in your backyard is never easy.
From irrigating and tilling to preventing the invasion of weeds and crabgrass, one must do a lot to keep their gardens in check.
And one of the surest methods of doing so is through the use of riding lawn mowers.
However, the current garden care market houses an innumerable variety of riding mowers, each with its unique set of features and capabilities. So, we know how difficult it can get for many to pick the right mower that can fit their needs perfectly.
And to help you out on all your yard care troubles today, we have brought a comprehensive buyer's guide that goes through some of the crucial points to keep in mind when buying a lawnmower.
Not only will we be helping you to spot the right mower for your needs, but also orient you in some of the various pros and cons that each mower type brings to the table.
So, sit back and read along.
Best Affordable Riding Lawn Mower Feb 2021
Troy-Bilt Premium Neighborhood
Pros:
Adjustable blade cutting height
Comfortable deck seat with excellent back support
Powerful engine and convenient deck width for faster cutting
Soft grip steering and wheels for greater precision
Cons:
Takes a lot of assembly after arrival
The plastic footrest is very slippery and not durable
>> Read owner reviews on Amazon
Troy-Bilt Pony 42X
Pros:
Great performance
Quite comfortable for a lawnmower; cup holder is quite nifty
Comes with useful accessories
7-speed shift on the go functionality coupled with the reverse shift makes operation very simple
Cons:
Takes time to assemble
Plastic footrest doesn't feel durable
>> Read owner reviews on Amazon
Ryobi RY48111
Pros:
Electric power is clean, noiseless and maintenance-free
Decent cutting area and blade operation
Cruise control and USB charging are welcome features
LED lighting works well at night
Funky design
Cons:
Poor battery runtime
Desperately needs suspension
>> Read owner reviews on Amazon
Husqvarna YTH22V46
Pros:
Comes with a powerful 22 HP V-twin Briggs and Stratton engine
Provides a smooth and vibration free ride on any terrain
Even though compact in build, supports a 46 inches wide cutting deck
The engine is easy to start and runs without noise
Cons:
Some of the outer parts of the mower are not as durable
>> Read owner reviews on Amazon
The Types of Riding Lawn Mowers
To start off our guide today, let us first get oriented with the types of riding lawn mowers that are available today. Riding mowers are primarily found to be of two specific varieties: the lawn tractors and the zero turn.
So, let's get into a bit more detail about each of them.
Tractor Mower
These are the biggest variety of riding mowers. Lawn tractors are simply not just for cutting and trimming your yard grass; they are an incredibly powerful range of machines that can tow and plow with ease.
The yard tractors are specifically designed for those homes whose yards are more than half an acre in size. They generally favor front wheel drives and comes with an engine that is between 15 and 25 horsepowers.
And along with an average deck size of 42 inches, these trimmers can go through the toughest of grass in practically no time. For half an acre, the tractors will take just below an hour to complete the job and tread over rough terrain without any problems.
However, it is this very power that makes these tractors so big and hard to maneuver. Control and precision is not a strong point for lawn tractors; they are rather difficult to move around trees and garden beds and other such yard obstacles.
They require a considerable amount of storage space as well, and we will not deem this variety of riding mowers to be a wise choice for the smaller yards.
Lawn tractors also come in two different styles: the standard lawn care type and the more upgraded garden beautifying type.
Standard lawn tractor
As the name would suggest, the standard lawn tractor is built specifically with just lawn care in mind. Its primary goal is to trim grass and do it as effectively and effortlessly as possible.
Garden care tractor
Apart from grass cutting, these tractors are made to support a wider variety of landscaping tasks as well. Convenient features such as mulching attachments, leaf collection accessories along with side bags for clippings are all possible with this range of tractors.
Moreover, advanced garden care accessories can also be hooked to them for better lawn management. Attachments such as snow plows, snow blowers, trailer hitches (for stump pulling and towing) can easily be used with them to work the soil.
These tractors are best suited for those yards, which apart from being big, have their own mini-farm and trellis plantations. As these mowers help till the soil and break it up for double digging, it will be the perfect choice for the more serious gardeners.
Zero Turn Mowers
Possibly the most popular strain of lawn mowers, the zero turn mowers are by far the grass trimmer of choice for both professionals and domestic users alike.
When it comes to their features and qualities, they are quite different from what the lawn tractors bring to the table. Though the zero turn mowers may not be able to tow or plow your fields like a tractor, it does support mulching accessories and clipping bags.
They can cut grass much faster than a tractor and be significantly more precise about it.
As they are small and compact, these mowers are incredibly easy to use and maneuver. So if you have a small to medium sized yard with a lot of obstacles, then using these mowers to cut around them will not be a problem at all.
Another aspect of these mowers that help with their handling and precision is the rear wheel drive system. This unique system allows these machines to pivot on their central axis (as tightly as possible) and complete a 180-degree turn with relative ease.
These mowers are able to pivot as you are given the ability to provide power differentially to the two rear wheels. If both the wheels are given the same amount of power, then the mower will run in a single straight line, but if one wheel receives more power, then the mower will pivot on its axis accordingly.
Zero turn mowers significantly eliminate a lot of the work that is associated with edging the lawn, so not only will it save you a lot of time but help professionals finish their tasks much ahead of schedule.
Additionally, unlike lawn tractors, zero turn mowers come in four different classes:
Entry Level
The entry-level zero turns are just perfect for small yard owners and suburban domestic users. These mowers have a much narrower deck, are easy to use and built to trim lawns with softer grass. They are very affordable but boast the lowest durability and hence, not recommended for harsh trimming jobs.
Mid Grade
Right at the middle of the pack, we have the mid-grade zero turn mower which is a bit larger and more powerful version of the entry level ones. They are suitable for homes which have yards that are just above half an acre in size. They have a larger deck size as well and can trim much faster.
Commercial and semi-commercial
These two variants are built with the professional mowers and landscapers in mind. They are the most powerful out of all the other categories, but they do cost a fortune. They are bigger, faster, comes with customizable grass trimming features as well as a variety of accessory attachment slots for convenient and efficient lawn trimming.
Features to Keep in Mind Before Buying
Now that we're done with the possible types of mowers that you can go for, let us now delve into some of the more significant features that you should look into before going in for the purchase.
Engine
What better way to start off the mower feature guide than with the engine itself?
Before investing in a riding mower that you really fancy, it's essential to first be absolutely clear about the amount of horsepower and torque that you want out of your machine.
And the mower's engine power that you need will primarily depend on the soil condition and the type of grass that grows in your yard.
Let's say, your yard has a lot of slopes and undulating surfaces and grows the tougher variant of the Florida grass; then opting for a very powerful engine can be the best bet here.
More horsepower and torque here would mean that your mower effortlessly traverses the rough terrain and goes through the grass in a matter of minutes. A mower with low power in this situation would take a significant amount of time to trim the lawn, and the engine may start to overheat after just one hour.
However, a mower with a powerful engine will cost a lot more than a standard mower model. So, if you are on a bit of a budget constraint, then try to find a model that perfectly balances both affordability and power at the same time.
Deck Size
The deck size is the next crucial aspect, and it's a feature which will house and also at times determine the mower's engine capacity, horsepower, as well as the torque.
The deck also houses the cutting blades along with certain lever functions, which one can use to customize the cutting height of the mower.
Riding mowers primarily have deck sizes that start at 30 inches and can go as wide as 60 inches. While the zero turn mowers take up the smaller size range, the tractor variants take up the upper limit of the deck size.
A larger deck size would mean not only a more powerful engine but a wider cutting width as well. However, a bigger mowing deck generally compromises on mobility, so if you want to opt for a mower with a large deck, then it's important to first see if your lawn has a lot of obstacles or not.
For a yard with a lot of obstacles, it's always wiser to go for a narrower deck which can reduce the edge trimming work.
Mower Accessories
Riding lawn mowers, unlike the walk behind mowers, support a large array of accessories to go with them. Due to the bigger power and size, it's able to support attachments such as mulchers, ploughers and snow blowers which is quite impossible for push and walk behind mowers to utilize.
However, not all riding mower models are able to support all forms of accessories. For example, if you have a small farm in your yard and do a lot of trellis cultivations, then the soil care variety of lawn tractors should be the one to look out for.
Standard tractor models and zero turn mowers don't come with the capabilities to support towable and tilling features, hence the superior tractor variants are your only choice here.
On the other hand, if you are just looking for grass trimming and perhaps creating a bit of mulch on the side, then the zero turn mowers will be the perfect fit for that need. The mulching kits fit zero turn mowers the best; you can equip the blades and the bag with relative ease and make amazing mulch with grass clippings.
Storage
A lot of users don't give all that much credit to the storage capabilities of a mower, but in our books, it's almost as important as the deck size and sometimes even the engine.
Now, none of us would like to just pitch a flimsy tent or a tarpaulin over an expensive mower and call it storage now, would we? Hence, with this very caution in mind, it's ok to say that a riding mower needs decent storage where it can be put away when not in use so that it's well protected from the harsh weather elements.
Mowers don't do all that well against frost and excessive rain, so it's crucial to stow them away at a place where the dampness will not compromise their functioning.
Hence, before investing in a mower, make sure that the one which you want to purchase is compact enough to fit the storage place. It can either be your driveway garage or even your backyard tool shed, and it must have enough space to house the riding mower that you're willing to get.
If you're planning to build a custom shed particularly for the mower, then that can work too; however, such sheds are usually very expensive and take up a lot of time to make.
Some Frequently Asked Questions
I have a very bumpy yard. What kind of mower would I need for a smoother ride?
Let's start off with the wheels and engine. For the wheels, traction is key for bumpy and rough terrain. So, not only must the wheels have a great grip but great shock absorbency as well. The engine should be of the powerful variant (Briggs and Stratton will do just fine here) and should have a hydrostatic transmission.
What is the recommended riding mower for a small yard?
For yards below the one-acre mark, an entry-level zero turn should be the ideal fit. You can go for the commercial or the mid-tier grade ones if you want to do a bit of mulching on the side, but just make sure that the mower is compact enough to go through the yard gate.
Are deck seat features all that important?
Well, that will depend more on your needs and wants. If you love working long hours then take a mower with a very comfortable deck seat and a great back support feature. If you love a cup of coffee or a glass of beer as you work, then get one with a pre-existing cup holder.
Final Thoughts
Riding mowers are amazing when it comes to getting your lawn in shape. However, choosing one from a vast category that can fit your needs perfectly is an incredibly difficult thing to do indeed. But we hope that our guide today was able to help you with all your mower troubles.
Till next time!
You should also check out our reviews of various models: