Troy Bilt Storm 2410 Reviews Sep 2023
We may earn an affiliate commission when you buy through links on our site.
Which is the best snow blower? How do you select one out of hundreds of options?
As difficult as it may seem, the answer to these questions depends on two vital factors – your requirements and your budget. If you are looking for a moderately-priced two-stage blower to remove light-to-medium snow cover, I can recommend the perfect snow blower to you.
Troy-Bilt is a reputed brand that offers many top-notch outdoor equipment and tools.
And today, I will tell you why you should consider buying the Troy-Bilt Storm 2410 Blower to remove snow from around your house.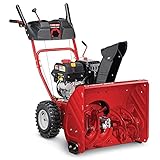 Last update on 2022-02-28 at 21:16 / Affiliate links / Images from Amazon Product Advertising API
Troy Bilt 2410 Review Sep 2023: Why do I like it?
I have been using this machine for over two years now, and my experience has been rewarding. The last couple of winters were severe enough to put this blower to the test.
Now, let's find out what it does best!
Operational Efficiency
Removing snow will not be a hassle with this blower. It has an adequate clearing width of 24 inches and an intake height of 21 inches. I observed that it could throw snow approximately 30 feet away. With that kind of operational efficiency, you will be able to carry out nearly all of your snow removal endeavors easily.
The remote crank chute control with 190-degree rotation allows you to throw snow in any direction you want. I faced zero problems clearing light snow cover about 11-14 inches deep from my driveway and the sidewalks near my house.
Powerful Engine
I especially liked the powerful 208 cc 4-cycle Overhead Valve (OHV) engine of the Troy-Bilt Storm Blower. With a two-stage blower system and a powerful engine, it surely packs a punch! What sets this blower apart from its competition is its 12-inch serrated steel auger and impeller.
Unlike most of the other blowers in its price range that fail to clear heavy and wet snow, the Storm blower is powerful enough to rise to the challenge. Its engine is backed by an adequate fuel tank that can hold two quarts. Make sure that you use only ethanol-free gas in this machine for best performance.
User-friendly Design
Troy-Bilt checks nearly all the boxes for ergonomic design with its Storm 2410 Blower. Having a user-friendly blower simplifies the otherwise hectic job of removing snow. It has a push-button electric start option, but its manual recoil start system works perfectly too.
I especially liked its maneuverability which is second to none. It features all-wheel drive along with six forward and two reverse speed options. And its 13 x 4 inches tires have X-Trac tread for optimal traction on uneven terrain.
You will also appreciate the fact that its deluxe polymer skid-shoes are reversible, ensuring no damage to the surface hidden beneath the snow cover. You will not find many snow blowers in the market that come packed with so many features and such a thoughtful, ergonomic design.
Ease of Use
One of the most prominent benefits that you can derive from this blower comes from how easy it is to use it. The handle is ergonomically designed and comes with standard hand grips to provide comfort. The machine has a self-propelling feature that helps a lot, especially if you have back problems like I do.
The remote chute control enables you to change the snow discharge direction conveniently without stopping the machine.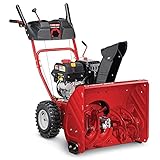 Last update on 2022-02-28 at 21:16 / Affiliate links / Images from Amazon Product Advertising API
What could've been better?
The Troy-Bilt Storm 2410 Blower has several impressive features, but it is far from perfect. After using it through two winters, I have noticed some flaws that should be improved. Given its steep price, I hope Troy-Bilt works on the following downsides of this machine:
Durability & Maintenance
The most significant flaw of the Troy-Bilt Storm 2410 Blower is that it requires high and mostly annoying maintenance. The delicate engine is made in China and malfunctions if you use fuel other than ethanol-free gas.
But even if you use ethanol-free gas, the machine will be clogged if you leave it in the fuel tank for a couple of months. I got into the annoying routine of draining the fuel tank after every use. If you live in an area that receives occasional snow and you will not be using it frequently, follow my lead and drain the fuel tank after each use.
The chute is made from plastic and is not sturdy at all for a machine of this price. On the couple of occasions that my machine encountered heavy and wet snow, the chute fell out.
Pros
Pros
It comes with a two-year limited warranty
It comes equipped with the powerful 208 cc 4-cycle OHV engine
It features six forward and two reverse speeds, along with the all-wheel-drive
Its wheels have X-Trac tread for excellent traction on uneven surfaces
Cons
Cons:
It does not have lights for better visibility in low light conditions
The chute is not sturdy and is made of plastic
Verdict
The Troy-Bilt Storm 2410 Snow Blower suffers from a couple of significant drawbacks but offers a plethora of amazing features. If you pay attention to what causes the problems and try to avoid them, this machine is well worth your money. If you want to remove heavy, wet snow or if you don't have access to ethanol-free gas, this is not the ideal product for you.
I hope my experience with this machine helps you decide whether you should buy it or not.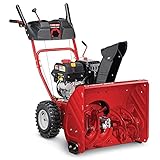 Last update on 2022-02-28 at 21:16 / Affiliate links / Images from Amazon Product Advertising API
Can't make up your mind yet? Read our buying guide for snow blowers before you proceed with your purchase.
You should also check out our reviews of other models: