YARDBEAST 3514 429cc 14HP Wood Chipper Review
We may earn an affiliate commission when you buy through links on our site.
If you are looking for a wood chipper to clear out your backyard, you are at the right place.
For today we would be discussing the Yardbeast 3514 Wood Chipper.
Manufactured by a company known in America for the trusted and reliable garden machining tools, Yardbeast 3514 is one of the better models of wood chipper that we came across.
So let's get started and let us tell you both the positive and negative aspects of the wood chipper. The decision to buy rests with you and only you.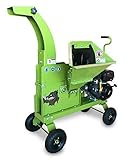 Last update on 2022-02-28 at 14:15 / Affiliate links / Images from Amazon Product Advertising API
Yardbeast Chipper Reviews Aug 2023: What we like about it?
Stubbornly reliable engine assembly
Powering the wood chipper is a Kohler 429cc engine. This is easily one of the most powerful engines that we have tested in this price bracket.
What we appreciated about the engine was its sheer ability to pull through even the most humongous of tasks.
The unit is manufactured in such a way that it is airy for proper air control flow to the internal combustion engine. So even if you are using it indoors, like a garage, you shouldn't have any problem with the engine choking.
Another good thing about the engine is the light metals used in its build. Material like aluminum ensures reliable operation with compact size and weight.
Resilient rotor and pulley system
The 3514 model from Yardbeast features a high-performance rotor for the job.
The rotor, although quite heavy at around 52 lbs, is uniquely qualified and positioned to maintain constant chipping power.
The attachment of a flywheel assembly and the high diameter rotor disc ensures that sufficient torque is always ready to churn chipping blades.
This assembly guarantees ample torque recovery too.
And again, Yardbeast went an extra mile to install belt drives instead of chain drives. This makes the rotor operation less noisy, easier to maintain and more efficient at the cost of slight loss in power transmission.
All steel built
Now, what good are the engines if the chassis carrying that weight itself is weak and brittle?
We are happy to confirm that such is not the case.
Yardbeast has used a stellar quality of steel alloy which is a high gauge steel. What it means is that it has good resilience and durability.
So even if a large piece of wood inexplicably falls on your machine, or any nasty mishap of similar magnitude occurs, rest assured that your investment has the guns to survive it. It is heavily armed!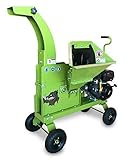 Last update on 2022-02-28 at 14:15 / Affiliate links / Images from Amazon Product Advertising API
Employing a high performance clutch
We didn't know what to expect in the transmission. After all, to keep the prices at bay, Yardbeast must have cut cost somewhere, right?
But no, that is not the situation. Not even close. They have sensibly used a high-performance heavy-duty NorAm professional clutch for the transmission.
The clutch works in a symbiotic relationship with the transfer belt provided.
This ensures that you encounter no headaches while operating the wood chipper and your machine works effortlessly without hiccups.
A solid two-year warranty
Combine all of the above with an excellent warranty coverage, and you have got quite a package.
The warranty covers manufacturing defects and also any damages incurred during transportation of the equipment.
But everything is not hunky dory here. There are some things that could have been better.
What could have been better?
The weight is something that might be tricky to handle. Moving the machine on level ground is fine, but picking it up for transportation is a different story. You would wish you're a wrestler as it weighs a mighty 300 lbs.
We're also unsure about the mileage of this chipper. And we're right. It's not high enough to prevent a hole in your pocket.
Pros
Pros
Powerful 14 HP engine
Easy to operate for long hours
Sturdy and built to last
2 years of warranty
Cons
Cons
Fuel guzzler
Heavy and difficult to assemble
Conclusion
In our opinion, you should go for Yardbeast 3514 for its sheer power and terrific build quality. It was also fairly easy to operate. All it takes is to turn it on and keep placing wood for it to gobble.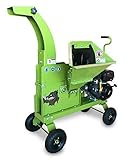 Last update on 2022-02-28 at 14:15 / Affiliate links / Images from Amazon Product Advertising API
Can't make up your mind yet? Read our buying guide for wood chippers before you proceed with your purchase.
You should also check out our reviews of other models: