Earthquake Electric Log Splitter Reviews Sep 2023
We may earn an affiliate commission when you buy through links on our site.
Although splitting logs with an ax is a Herculean task for most of us, it was the only way to get the job done till a few years ago. Thankfully, we have the luxury of using log splitters today.
Log splitters simplify the tiresome and tricky process of splitting logs, and they come in all shapes and sizes with a variety of specifications and applications.
How do you select the best log splitter that will perfectly meet your requirements?
Depending on how often you will be splitting logs and the number and type of woods you plan to split, you will have to choose either a gas or an electric splitter. We strongly recommend an electric splitter for small to medium-sized logs.
The Earthquake 13009 Electric Log Splitter is our pick for the best log splitter out there. It offers versatility, portability, and convenience without compromising on performance.
Read on to find out everything you need to know about the Earthquake log splitter!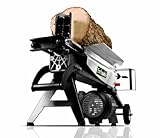 Last update on 2022-02-28 at 15:31 / Affiliate links / Images from Amazon Product Advertising API
Earthquake Log Splitter Reviews Sep 2023: Features
Before we dive into a detailed description of everything we like about the Earthquake 13009 electric log splitter, let's take a brief look at its features:
It comes equipped with a powerful 1.75 HP, 15 amp electric engine
Capable of splitting up to 20 inches long logs with ease
Has a reasonable cycle time of 22 seconds
Plugs into all standard 110V outlets
Delivers a brute ram force of about five tons
Portable design, weighing around 100 pounds
What did we like about it?
We tested the Earthquake log splitter extensively for a couple of days to get a complete idea about all the benefits you may derive from buying and using it. We primarily used it to split logs of firewood for the fireplace in our living room and logs of oak and maple wood for our charcoal smoker.
To give you a comprehensive review of the Earthquake log splitter, we have listed out a summary of the pros and cons. But first, here is everything we liked about it:
Portability
Earthquake's 13009 log splitter gives you the best of both worlds – it is large enough to effectively split logs up to 20 inches in length while it is compact enough to provide convenient portability. A machine that packs in so much power and weighs only around 100 pounds is a blessing for anybody who would need to move it around often or take it from one place to another.
You will be pleased to know that the electric operation of this splitter requires a standard 110V outlet so that it can be used in most places, indoor or outdoor.
Durability
This review will be far from complete unless we specify how much we liked the build of the Earthquake 13009 log splitter. Everything about the machine – from wheels to engine, wedge to handle – is proof of best-in-class durability. The device is built to withstand normal wear and tear for years.
Like any machine, you need to ensure that you adhere to its limitations and do not try to split logs larger than 20 inches in length or 10 inches in diameter.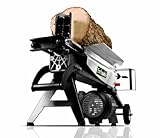 Last update on 2022-02-28 at 15:31 / Affiliate links / Images from Amazon Product Advertising API
Immense Power
We were especially happy with the performance of the splitter, thanks to its powerful electric 1.75 HP 120-volt 60 Hz, 15 amp engine that provides a maximum splitting force of five tons.
Whether you want to split deciduous trees like oaks and maples, or coniferous trees like spruces and pines, the Earthquake log splitter makes it easy and straightforward. We used the machine to chop both soft and hardwood tree logs and were impressed by its powerful performance as it efficiently split every small log we threw in it.
Ease of Use
One of the first things we noticed and liked about the Earthquake Log Splitter is how effortless it is to use it. The sturdy wheels hold up the machine quite well and allow you to effortlessly move it back and forth between your home and patio. The perfectly designed easy-grip handle is rubber-coated to allow convenient handling of the splitter when in use.
The electric motor is compatible with all standard 110V outlets and unlike gasoline-powered splitters, it saves you the additional trouble of refilling the gas tank and a pull start.
Warranty and After-Sale service
The 13009 log splitter from Earthquake comes with a five-year residential and 90-day commercial warranty to ensure the highest quality standards are met with each product and customers get quick solutions to any problem they might face. If a customer is not satisfied with the product, they have the option to return it within 30 days from the date of purchase.
We called the company to inquire about motor replacement and spare parts, and we appreciated the quick and helpful response we got.
Pros
Pros
Simple maneuverability owing to the perfectly placed rubber-coated, easy-grip handle
The electric motor provides convenience – no hassle with gas, plug in and start splitting
Two sturdy steel wheels measuring 4.75 x 1.5 x 4.75 inches ensure long-lasting use and easy transport
A cycle time of 22 seconds is quick enough to split dozens of logs within an hour
The horizontal orientation of the machine and ergonomic design allows efficient log splitting
Cons
Cons
Cannot be used at any place that is over 3,250 feet above sea level
It is not towable and hence can be transported over short distances only
It is not intended for large logs and is ideal for only specific, limited uses
Final Thoughts
You don't have to be a lumberjack and handle an ax to get wood from your garden for cold winter nights or occasional campfires. With Earthquake W1200 Log Splitter, splitting tree logs becomes a piece of cake!
The Earthquake log splitter is an ideal option for all homeowners who want to split small tree logs. It works best with old, seasoned logs rather than new, wet logs. So if you are looking for a splitter to chop large logs, this is not the right choice for you and you should see a more powerful, heavy-duty splitter.
For everybody else, Earthquake 13009 log splitter will make your life easier. Happy splitting!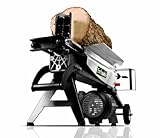 Last update on 2022-02-28 at 15:31 / Affiliate links / Images from Amazon Product Advertising API
Can't make up your mind yet? Read our buying guide for log splitters before you proceed with your purchase.
You should also check out our reviews of other models: