Powerhorse 3-Point 22 Ton Horizontal/Vertical Log Splitter Review
We may earn an affiliate commission when you buy through links on our site.
Acquiring your own firewood from the backyard is a fantastic feeling, isn't it?
It makes the fireplace experience all the more special.
But acquiring your firewood from the trees and fallen branches of your garden is not an easy task. And the job is made even harder if you are not equipped with the right splitting tool.
So let us help you out with that today, by presenting one of the leaders in the field of wood cutting.
The Powerhorse 3-Point Log Splitter is one of the most versatile gardening tools in the market today. With its amazing lightweight build and portable features, it caught the attention of many a gardeners, amateurs and professionals alike.
And we are confident that it is capable of fulfilling all your needs when it comes to backyard maintenance.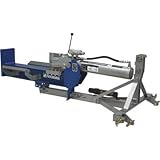 Last update on 2022-02-28 at 15:31 / Affiliate links / Images from Amazon Product Advertising API
Powerhorse Log Splitter Review Sep 2023: What keeps it a step ahead of the others?
Powerhorse is all about going the extra mile for their customers, and making the user experience as amazing and as convenient as possible. With the help of their 3-point hitches, the log splitter can be easily attached to category 1 and 2 tractors for increased mobility. And for greater power, it uses the tractor's hydraulics to operate its own 4 inches x 24 inches cylinder.
Its fantastic user-friendly design will help you to switch between the vertical and horizontal splitting operations effortlessly, while the industrial I-beam build and tough steel support brackets keep the splitter durable and long lasting.
Let's take a closer look at some of its unique features.
Convenient build
Isn't it a physically daunting task when you have to carry larger pieces of wood from the peripherals of your backyard to the splitter?
After a storm or on every other day of spring and autumn, we all find our gardens littered with yard debris and fallen trees. During such circumstances, it is quite inconvenient to carry the larger tree chunks to the splitter manually.
The Powerhorse's 3-point feature addresses this very issue. By being able to attach itself to category 1 and 2 tractors, it dramatically improves its mobility. And that makes it one of the most reliable log splitters in the field of gardening tools.
Exceptional splitting force
Instead of having its own onboard hydraulic system, the splitter uses the tractor's hydraulics to create up to 22 tons of splitting force.
The splitter even comes with Halite hydraulic cylinder seals that resist the damage from wear and tear and along with the wire reinforced hose, improve the splitter's longevity. You will be able to split away with minimal maintenance.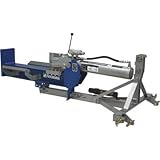 Last update on 2022-02-28 at 15:31 / Affiliate links / Images from Amazon Product Advertising API
Sturdy and durable
To keep up with its amazing splitting force, the Powerhorse Log Splitter is made incredibly robust as well. The main supportive feature behind its durability is a strong, long-lasting industrial-grade I-beam, which ensures that the splitter is resistant to physical damage.
For a more convenient user experience, the Powerhorse has bolt-on cradles that keep the logs centered on the wedge, thereby preventing them from rolling off the beam which would result in uneven cuts. And with just the help of a screw, you can convert to vertical splitting, making splitting large logs as effortless as possible.
Where does the Powerhorse disappoint?
Although portable with a fantastic lightweight and mobile build, the Powerhorse fails to impress when it comes to functioning as an independent machine. With the lack of its hydraulic mechanism, the Powerhorse is extremely dependant on the type and kind of tractor you own. And if you don't already own one, then investing in a new tractor just for the sake of a splitter is absolutely ludicrous.
Additionally, the I-beam is not as water resistant as we had hoped, and it gave away quite easily if kept outside in the rain for too long.
Pros
Pros
Convenient build; fits both category 1 and 2 tractors
Industrial grade I-beam keeps the splitter long lasting
Halite hydraulic cylinder seals resist damage from wear and tear and keep the splitter robust
Bolt-on cradles keep the logs from running off
Cons
Cons
Highly dependent on the tractor for mobility and splitting force
The I-beam is weak to water damage
Verdict
The Powerhorse Log Splitter is one of the most lightweight and affordable splitters in its price range. And with a 20-tonne splitting force, it can indeed grow to be any gardener's favorite gardening tool.
We hope our review today was able to help you out with all your wood splitting needs.
Till next time!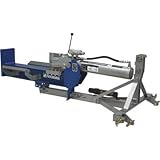 Last update on 2022-02-28 at 15:31 / Affiliate links / Images from Amazon Product Advertising API
Can't make up your mind yet? Read our buying guide for log splitters before you proceed with your purchase.
You should also check out our reviews of other models: