Samson Log Wood Splitter Hydraulic 45 Ton Review
We may earn an affiliate commission when you buy through links on our site.
The Log Wood Splitter Hydraulic 45 Ton features impressive log splitting capabilities as well as versatility, making it a powerhouse tool whether you use it at home or in professional applications.
Features
Horizontal or vertical usage
The big versatility aspect comes from the fact that you can use this log splitter either horizontally or vertically. Depending on your current application or work area, you may favor one over the other, but for those who will be splitting a large variety of wood types in large quantities, this versatility in use style is crucial.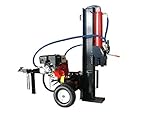 Last update on 2022-02-28 at 13:50 / Affiliate links / Images from Amazon Product Advertising API
15hp motor
The 15hp/420cc LONCIN motor is newly designed and ultra-powerful, making the splitter capable of professional and industrial applications. It's gas-powered and features both an electric start and a recoil start with included battery.
High capacity
This log splitter produces 45 tons of pressure backed by its 15hp motor, enabling the splitter to cut through most wood types and accommodate logs up to 25 inches in length, which improves your workflow if you're splitting a large amount of wood.
Improved I-beam
The improved I-beam features a big upgrade in terms of strength and durability; it also has double handles for convenience and comes with the upgraded log stripper attachment included.
Comes with towing kit
Because this is such a large log splitter and you'll likely be transporting it to different job sites at some point, the towing ability is important. Everything you need for towing is included in the light towing package kit; it also comes with larger tires. The max towing speed is 35mph; while this isn't highway rated, you can take back roads and transport your log splitter where it needs to go on most county and residential roads.
First impression
My first impression with this log splitter is that it seemed a little daunting to put it together. I got my wife to help me with assembly, because she's great at that sort of thing, and it was really important for me to get everything right during assembly, not just for safety's sake (which is the most important) but also because I wanted to see how the splitter really performs when it's properly put together.
It took the two of us about two-and-a-half hours to put it together, which I view as pretty reasonable, considering the sheer size and number of parts. Once everything was in place, I was really impressed with its appearance. It looks a lot sturdier than I took it to be based on product pictures, so I was really happy to see that.
I decided to test it horizontally at first. I knew the max log length capacity is 25 inches, but I decided to start out with 20 inches of maple, going with the shorter length for a hardwood, just in case. It sliced through it like butter. I also put some logs of red alder and white oak and they were also easily split.
After being satisfied that the splitter was able to split the wood I commonly use horizontally, I decided to do the same test vertically. I didn't have a strong preference for vertical over horizontal or vice versa, but to me, the results were pretty much even, which more than satisfied me, because I prize versatility in case I do end up having a strong preference.
As for other functions, I like the fact that you can use the recoil start or the electric start. Both worked well and were easy to do.
The pros
What to like:
Comes with many upgraded features
Horizontal or vertical use
Towing kit and tires included
High capacity
High-powered
Able to cut through most woods, even hardwoods
Newly designed 15hp LONCIN motor
Exerts 45 tons of pressure
4-way splitting wedge
Perfect for professional use
The wedge, stripper, controller, cylinder and hydraulic oil filter all come pre-installed (you have to purchase your own hydraulic oil, however)
Made with parts from the USA
USA-based customer service
One-year warranty for parts
The cons
What to consider:
This log splitter requires two people to assemble and takes roughly two hours, but since this is an industrial strength log splitter, it's not wholly unreasonable, even if inconvenient
The max towing speed is 35mph and the tires aren't rated for the highway
What comes with the Log Wood Splitter 45 Ton
Several upgrade items, like the upgraded log stripper, towing kit, tires and recoil start and battery are all pre-included on this particular model. This splitter also comes with a one year warranty on parts.
User experience and performance
The positive user experiences mainly revolve around the fact that the log splitter is able to power through any wood type you put it up against. It performs how it's supposed to, for the most part. The one recurring thing people tend to point out is the fact that some of the bolts may come loose during usage. This can be remedied by tightening them; some may replace them. If the problem is minor, it doesn't really detract that much from the product's mostly good points. Very few people have experienced severe problems, but if they do occur, customer service should always be alerted so they can resolve the issue for you.
Conclusion
The Log Splitter 45 Ton with 15hp motor is a log splitter that I'd definitely recommend to not only professionals but also homeowners who do massive amounts of wood splitting. The work goes by extremely fast and with the pre-installed wood stripper upgrade, you get an unexpected amount of extra versatility, on top of the ability to use the splitter both horizontally and vertically. Essentially, it's just a great high capacity log splitter packed full with upgrade features pre-included. What else could you ask for?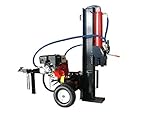 Last update on 2022-02-28 at 13:50 / Affiliate links / Images from Amazon Product Advertising API
Can't make up your mind yet? Read our buying guide for log splitters before you proceed with your purchase.
You should also check out our reviews of other models: