Earthquake Tazz K33 Chipper Shredder Review
We may earn an affiliate commission when you buy through links on our site.
Are you looking for a moderately affordable chipper? There are plenty of great options out there, but you should definitely check out the Tazz K33 Chipper Shredder. This chipper is surprisingly affordable, yet it is a true workhorse, and its performance will leave you impressed. With a 301 cc motor and its convenient portability, you'll be able to clear your yard of limbs and branches much quicker than ever before. Is this the right chipper for your individualistic needs? You can find out by reading the in-depth guide below.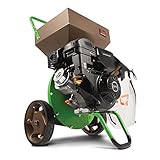 Last update on 2022-02-28 at 16:39 / Affiliate links / Images from Amazon Product Advertising API
Tazz Chipper Shredder Review Aug 2023: Features
Compact Size
Some chippers are massive, which make them slightly difficult to store. If you have limited space around your home, you'll want a compact chipper that won't consume so much space, and this is where the TAZZ Chipper Shredder really excels as the product measures in at 25.4" by 29.9", making it far smaller than most of its competitors. This ensures that you'll have little to no trouble storing this chipper away after the work has concluded. In fact, it should fit conveniently in pretty much any shed or garage!
Easy Portability
Another great thing about the Tazz K33 is the fact that it is so portable. Wood chippers can be pretty heavy; if you try to lift one of these products, there is a good chance that you're going to injure yourself. This is never a problem with the Tazz Chipper. It is equipped with two wheels and a handle, and this combination makes moving the chipper from location to location so much easier.
The wheels are designed for all types of terrain and they have no problem gliding over dirt, grass or even rocks. On top of that, they're durable enough to last for a long time without going flat! The wheels can also be replaced should anything go wrong in the future.
Very Safe
Wood chippers can be a little dangerous, but the Tazz K33 really excels in this category as it is much safer than many of its competitors. This product has been tested extensively for safety purposes and it has passed all ANSI B71.6 safety standards. Therefore, as long as you take the right precautions and wear the right safety gear, you'll be able to use the machine without any problems.
5-Year Warranty Provides Assurances And Quality
If you are like most individuals, you will want to make sure that you are getting what you paid for everytime you make a purchase. Well, when you invest in the Tazz K33 Chipper Shredder, you can truly rest assured that you are getting what you paid for thanks to the 5-year warranty on the engine. The engine is one of the most important components of any wood chipper, as without the engine you wouldn't have the power to chip branches and twigs. This is why the manufacturer backs their product's engine with an amazing 5-year warranty.
If you are fortunate enough to find a company that is willing to stand behind their product for five years, you can truly tell that they believe in what they are selling.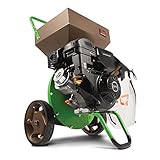 Last update on 2022-02-28 at 16:39 / Affiliate links / Images from Amazon Product Advertising API
Powerful 301 cc Engine
It has already been established that the engine is one of the most important components of any wood chipper. And, this is why the Tazz K33 Chipper Shredder comes equipped with a 301 cc engine. Not only is this engine extremely reliable and durable, but also it is powerful enough to tackle the toughest jobs. Despite its small and compact design, the powerful engine on this chipper gives it the ability to power right through branches and twigs that are 3″ in diameter or lower.
When you combine this with the 5-year warranty, you are truly looking at one powerful and reliable engine that would make a great addition to any homeowner's garage.
Kickstand Provides Extreme Stability
When it comes to chipping you might often times find yourself in some uneven or rough terrains. With some models, this could be a problem when you are trying to feed branches and twigs into the hopper. However, thanks to the handy kickstand installed on the bottom of this chipper, you can be guaranteed of extreme stability at all times. You never have to worry about the chipper flipping over as you are feeding branches into the chute.
Extremely Handy Debris Bag
Have you ever seen those big, commercial chippers that just throw the debris everywhere as twigs and branches are inserted into it? Well, unfortunately, this is the way most chippers operate. Of course, there really is nothing wrong with this, but it can make a mess after an entire day's worth of chipping.
Fortunately, this is something that you never have to worry about when you invest in the Tazz K33. This chipper comes equipped with an extremely handy debris bag that will catch all the debris from the limbs, branches, and twigs that your shred. In addition to this, the bag is so easy to use that it almost makes yard work tolerable. The bag has a bottom zipper and rugged, fabric handles that make emptying and reinstalling easier than ever.
Ratio Of Reduced Material
The Tazz K32 Chipper is integrated with heavy-duty tri and j-hammers, which are capable of reducing materials with the ratio of 20:1. This basically means that the reduced material will be approximately the same size as store-bought mulch. The blades are extremely durable and sharp to ensure the entire branch is ground up into mulch the first go-around.
Pros
Pros
Compact design
Two large 11″ wheels are guaranteed to never go flat
Includes a handy debris bag with a "bottom-out zipper" for easy emptying
Backed by a 5-year manufacturer's warranty
Powerful 301 cc Viper engine
Handles branches up to 3″ in diameter
86 foot-pound gross torque
Grinding chamber dimensions – 14" x 2.5"
Weight – 121 pounds
Cons
Cons
The cone makes it difficult to feed curved branches
On/Off switch is inconveniently located
Overall Assessment
The Tazz K33 Chipper Shredder is designed to handle up to 3″ diameter branches, while most similar shredders are only able to handle 2.5" diameter branches, so this is definitely an improvement. Regardless of the chipper's heavy weight, it is still very maneuverable because of the 11" wheels and large handle. The front guard and wheels help to keep the chipper upright and in place throughout use. This is a heavy-duty chipper with a powerful engine that will keep on working for many years to come.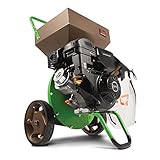 Last update on 2022-02-28 at 16:39 / Affiliate links / Images from Amazon Product Advertising API
Can't make up your mind yet? Read our buying guide for wood chippers before you proceed with your purchase.
You should also check out our reviews of other models: