Powerhorse Chipper/Shredder Review Sep 2023 – 420cc OHV Engine
We may earn an affiliate commission when you buy through links on our site.
Are you in the market for a brand-new shredder? When you begin your hunt, you will quickly discover that your options are plentiful, which can make the decision-making process so much more difficult. Along the way, you will definitely want to stop and take the time to check out the Powerhorse. This unit is accurately priced thanks to its amazing performance, impressive durability, and its ease of use. The 420cc engine and the ease of portability ensure that you'll have your yard free of limbs and branches in a hurry! What else do you need to know about the Powerhorse Chipper/Shredder? You'll find out below!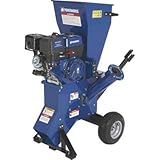 Last update on 2022-03-03 at 00:36 / Affiliate links / Images from Amazon Product Advertising API
Powerhorse Chipper Shredder Review Sep 2023: Features
Size
To ensure that your chipper doesn't become an inconvenience, you'll want to choose one that fits in your garage fairly easily. This is why it is pertinent to check out the unit's dimensions. The Powerhorse measures in at 36.5″ by 28.5″ by 56″. While the unit isn't the smallest in the world, it will still fit in most garages without too much difficulty. The unit's size helps to ensure that it is able to cut through bigger branches than many of the alternatives.
Powerful Engine
The Powerhorse is equipped with a 15 HP 420cc gas engine. You can be guaranteed that the engine will provide you with all of the power needed to get the job done as quickly as possible. With 15 HP, you'll be able to chop through pretty much any branch imaginable. The engine is equipped with a cast iron sleeve. Another great thing about the engine is that it is built to last, so as long as you oil it regularly, it'll last for many years to come.
There is yet another perk: this unit is equipped with a low oil shutdown feature. When the engine is low on oil, it'll automatically shut off and warn you. This ensures that you do not accidentally burn out the motor.
4.7-Bushel Bag
Your chipper is going to create a mess as those branches aren't just going to disappear after all. Instead, they'll be turned into much smaller chips which can be used as mulch. To help you avoid making a mess, the Powerhorse is equipped with a 4.7-bushel collection bag which is massive and more than capable of holding a significant amount of mulch. The bag is easy to secure to the machine and it remains in place at all times. This ensures that the machine is effective and efficient.
Excellent Portability
Despite being large and heavy, the Powerhorse Chipper is actually very easy to move from location to location. This is very important since you'll want to grind up branches all around your yard. This unit is equipped with a built-in handle. Just grab the handle and tilt the machine backward, then you'll be able to roll it around without breaking your back. The ease of portability definitely makes this one of the easiest chippers to use and store.
The 13″ pneumatic tires are really impressive as they're incredibly durable and versatile. They can easily maneuver through all different types of terrain.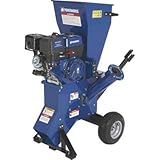 Last update on 2022-03-03 at 00:36 / Affiliate links / Images from Amazon Product Advertising API
Good Warranty
You should always protect your investment. This is why you should consider buying the Powerhorse as this unit is protected by a 24-month warranty. If anything goes wrong in two years, the company will fix the problem for free.
Low Center Of Gravity Design With Built-In Handle
Unfortunately, when it comes to chipping, there are going to be a lot of times when you have to maneuver into rough terrains. With large, heavy chipper this can be a difficult task that might seem nearly impossible to achieve. With that being said, this truly is something that you won't ever have to experience when you invest in the Powerhorse Chipper/Shredder. This model is specifically designed with the well-balanced low center of gravity design so that users can easily maneuver the device through whatever terrain they need to.
In addition to this, the device comes equipped with a sturdy and well-built handle, which makes transportation even more convenient. If maneuverability and transportation are two of your major concerns when it comes to investing in a shredder, you truly will not go wrong with the Powerhorse Chipper.
Cuts Debris Up To 4″ In Diameter
The Powerhorse Chipper is without a doubt one of the most effective cutting machines that you will find available on the open market, and this is all in thanks to its unique and durable design. The chipper comes equipped with two hardened chipping knives, ten hammers, and ten shredding blades. When you combine all of these amazing features together it gives this device the power to easily cut right through branches, twigs, and limbs up to 4″ in diameter.
This is truly a quality design that is usually found on most commercial devices. However, the Powerhorse Chipper/Shredder offers homeowners and residential cutters the same features as the professionals.
Take Advantage Of The Electric Start

If you are like most individuals you are probably used to those wood chippers that require a pull string start. This is extremely similar to the operation and starting sequence of a lawnmower. While there is really nothing wrong with this design it can be truly difficult in tight situations, not to mention that there are tons of possibilities for technical problems.
Fortunately, this is something that you will never have to deal with when you invest in the Powerhorse Chipper. This machine comes equipped with a handy push-button electric start, which not only makes starting the device in tight locations extremely easy but also it makes the starting sequence easier overall.
Pros
Pros
Onboard 420cc gas engine
Automatically shuts down when oil reaches the minimum level
Two large 13″ pneumatic tires
Very maneuverable regardless of its heavy weight
Large, durable handle
Handles branches up to 4″ in diameter
Includes a 4.7 bushel bag for catching mulch
10 shredding blades and 10 hammers
Cons
Cons
Assembly is a little complex
Collection bag could be bigger as it fills up extremely quickly
Overall Assessment
The Powerhorse Chipper Shredder is a machine to be reckoned with, as it is capable of grinding up to 4″ diameter branches and twigs on the first attempt. The chipper is very maneuverable and will roll over rough terrain with ease, thanks to its large handle and 13″ pneumatic tires. The steel construction will ensure the chipper provides an extended service life. In addition to this, the chipper is backed by a two-year manufacturer's warranty.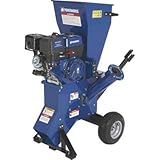 Last update on 2022-03-03 at 00:36 / Affiliate links / Images from Amazon Product Advertising API
Can't make up your mind yet? Read our buying guide for wood chippers before you proceed with your purchase.
You should also check out our reviews of other models: