BRUSH MASTER CH8M17 Chipper Shredder Review
We may earn an affiliate commission when you buy through links on our site.
Finding the right chipper shredder that will fit all your needs is a difficult task indeed.
The choices get even harder when there are so many varieties to pick from, where each shredder looks and feels as attractive as the next.
And if you are in one such dilemma yourself, then you have certainly clicked on the right review.
The Brush Master CH8M17 Chipper Shredder has been the go-to for a lot of garden tool enthusiasts for both professional and household use. And we believe that it will help solve all your backyard needs as well.
Not only is it eco-friendly with mulch producing capabilities, but its oversized mouth lets you fit and shred the biggest and toughest of yard debris.
So, without further delay let's see if the Brush Master CH8M17 can help you solve your yard issues as it did with so many others.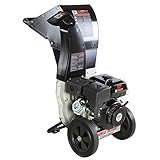 Last update on 2022-03-04 at 04:20 / Affiliate links / Images from Amazon Product Advertising API
Brush Master Chipper Shredder Reviews Sep 2023: Why is it a step ahead of its competition?
During spring or autumn or even after a storm, you may find your backyard to be in tatters. There are fallen leaves and twigs everywhere, and it is an infuriating hassle to go about cleaning and disposing of the debris. Sure, you might feel the need to call on the garden care professional, but is that added expense genuinely worth the effort?
We believe that the Brush Master CH8M17 is a more fitting alternative. Not only is it affordable with easy to use features, but it is efficient enough to save a lot of your time. Let's go over some of those fantastic features in detail, that indeed keeps it a cut above the rest.
As powerful as they get
It is essential for a chipper shredder to be able to cut through thick twigs and leaves effortlessly, and as efficiently as possible. Most shredders might boast about efficiency, but it's power that they lack. Though they can cut branches up to 2 inches x 2 inches in diameters, they quickly break down if that limit exceeds. The Brush Master CH8M17, on the other hand, is able to go a bit above 3 inches x 3 inches diameters.
The Brush Master CH8M17 comes with an 11-HP commercial duty engine that turns yard waste into useful 1/4 mulch and turns 12 bags of branch debris into 1 bag of chips in a matter of minutes.
Convenient build
What makes the Brush Master CH8M17 amazingly efficient is the 16 mighty hammers and 1 hardened chromium steel cutting blade installed in it. And coupled with the 2-way self-feeder, you don't have to cut off the top of the wood and still get chips from 3 inches x 3 inches diameter branches.
Additionally, the bonus of the tow bar provides the shredder with the much-needed portability so that maneuvering it around the garden is not a complicated task.
Durable and sturdy
The Brush Master CH8M17 is one of the most durable chipper shredders of its class. Made of solid heavy gauge steel construction, the shredder lasts longer than most others of its kind which use cheap materials like plastic, aluminum, and cast iron in their parts.
And in addition to that, this chipper is belt driven and equipped with a centrifugal clutch that ideally protects the engine from weather damage and corrosion.
Where does the Brush Master CH8M17 fall off the wagon?
Even though the Brush Master CH8M17 is a go-to for many a homesteader looking to get into garden treatment, it failed to impress us in quite a few areas. The most significant of which lay with maintenance.
Though the solid heavy gauge steel construction calls for a compact and durable build, the more covered up it is, the harder it is to clean the insides. When water, wood splinter or dirt gets in, it can be tough to remove. And dousing it with a hose will not do the trick as well.
Pros
Pros
Heavy gauge steel construction provides a robust and compact body that is durable and weather resistant
Chromium cutting blade and self-feeders make the splitter ideal for amateurs
11-HP commercial duty engine turns 12 bags of debris into one bag of chips
Eco-friendly; turns waste to mulch
Cons
Cons
Not at all easy to clean. The hood needs to be removed with the help of screwdrivers
Size too big to fit in the small lawn
Verdict
The Brush Master CH8M17 is perhaps the biggest and the most powerful shredder of its class. Even though it might have a few issues with maintenance, it ticks all the boxes on our checklist.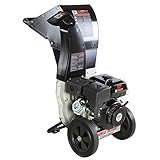 Last update on 2022-03-04 at 04:20 / Affiliate links / Images from Amazon Product Advertising API
Can't make up your mind yet? Read our buying guide for wood chippers before you proceed with your purchase.
You should also check out our reviews of other models: