Sun Joe CJ601E Chipper Shredder Review – 14-Amp Electric Wood Chipper
We may earn an affiliate commission when you buy through links on our site.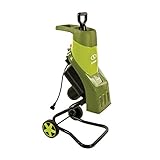 Last update on 2022-02-28 at 15:56 / Affiliate links / Images from Amazon Product Advertising API
Are you looking for a decent wood chipper that will not break the bank? Would you like an electric unit, so you can avoid the need to purchase gasoline? If you answered yes to these questions, you'll definitely want to check out the Sun Joe CJ601E Electric Wood Chipper. It might not be the most powerful wood chipper on the planet, but it is still capable of turning twigs and branches into mulch within a matter of seconds. Depending on your unique needs, there is a good chance that the Sun Joe Wood Chipper will prove to be a great investment for you.
Sun Joe Shredder Review Sep 2023: Features
Suitable Uses
Despite being incredibly affordable, the Sun Joe Wood Chipper is surprisingly efficient as it is more than capable of grinding up branches and twigs. In total, the 14-amp motor is capable of handling branches up to 1.5" thick. Once this chipper has done its job, you'll be provided with nutrient-rich garden mulch. With this unit by your side, you'll be able to get your yard cleaned up pretty quick and you'll have a full bag of mulch to boot!
Safety Hopper
There is no doubt that operating a wood chipper can be a little dangerous. This is definitely the case if you've never used one in the past. The good news is that the Sun Joe has features that will protect the user from start to finish. The safety hopper is a great addition that is equipped with a locking knob to ensure that the motor cannot be operated when the hopper is opened. You can safely use this unit without putting yourself in a risky situation. The unit is also equipped with a reset button, which will come in handy when the chipper is overloaded.
A Green Choice
A lot of people have decided to go green over the past few years. If you happen to fit into this category of people, you will definitely want to get rid of your gas-powered equipment and make the switch to electric. With this unit, you will never have to worry about mixing gasoline or spilling it all over yourself. On top of that, the Sun Joe Wood Chipper is basically maintenance free. The only bad thing is that you'll need a pretty long extension cord to use this unit all around your yard. Nevertheless, you'll be able to avoid noxious fumes that could harm you and the environment.
Superior Portability
If you are shopping for a portable grinder, you should look no further than the Sun Joe CJ601E. This grinder is designed to offer immense portability with two large wheels and an ergonomically designed handle. At only 26 pounds, you will be able to transport the grinder from place to place with ease. Once you reach your destination, you will not need any assistance in removing the grinder from your vehicle. Just grab it by the handle and kickstand to place into position, and you will have full control of the machine with the handle. Plus, the kickstand will keep it in position throughout the grinding process.
In addition to this, the grinder will move across the roughest terrain, thanks to its 6″ wheels. The wheels are pneumatically designed, so you never have to worry about airing them up. They are also replaceable if they ever break down from normal wear and tear.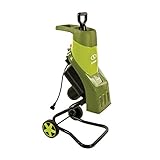 Last update on 2022-02-28 at 15:56 / Affiliate links / Images from Amazon Product Advertising API
Easy Storage
The Sun Joe CJ601E Shredder has a compact design for easy storage. This means you can store it in a small cubbyhole or corner and it will never interfere with your daily duties. In fact, you can store it in your garage or closet if you do not have an outside shed. The upright design reduces the need for a large storage space, which is important for some consumers who reside in small apartments, houses or condos. The kickstand will keep the grinder in position once it is placed into storage.
14-Amp Motor Produces Powerful 4,300 RPMs
Did you know that the Sun Joe Electric Wood Chipper is equipped with a powerful 14-Amp motor? That's right, this powerful little motor is capable of producing 4,300 RPMs, which will make extremely quick work of leaves, brush, branches, and twigs. It doesn't matter if you are looking to acquire some extra mulch for your garden or you are just trying to eliminate all that debris in your yard. If you want to do so with speed and efficiency, there really is no better option available on the market than the Sun Joe Electric Wood Chipper/Shredder.
Backed By A Full 2-Year Warranty
Any time you invest in a product, regardless of what it is, you want to make sure that you are getting quality. Well, you can rest assured knowing that is what you are getting when you invest your money in the Sun Joe Electric Wood Chipper. In fact, one of the most notable things about this product is that a 2-year warranty is offered as well.
This means that if you experience any problems or issues whatsoever with this product during the first two years of ownership, the company will resolve the issues for free. All you will have to do is get in touch with the manufacturer and they will send replacement parts or guide you to a nearby dealer. Any company that is willing to stand behind their product like this must really believe in what they are selling.
Pros
Pros
Turns at 4,300 revolutions per minute
Can deal with limbs and sticks up to 1.5″ thick
14-amp motor gets the job done right
Several safety features for safer operation
16:1 reduction ratio
Protected by a full 2-year warranty
Lightweight and compact
A green solution to your limb problem
Cons
Cons
Power cord can be annoying
Not the fastest chipper on the market
Overall Assessment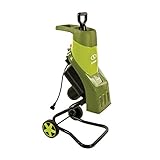 Last update on 2022-02-28 at 15:56 / Affiliate links / Images from Amazon Product Advertising API
Despite having a few cons, the Sun Joe CJ601E will be a great investment for those worried about protecting the environment. This unit is cost effective and you'll never have to worry about purchasing gasoline. For the price, the Sun Joe is a real steal.
Can't make up your mind yet? Read our buying guide for wood chippers before you proceed with your purchase.
You should also check out our reviews of other models: