Samson 15HP Gas Powered Walk Behind Stump Grinder Review
We may earn an affiliate commission when you buy through links on our site.
Cutting trees down is difficult but removing unsightly, stubborn tree stumps and roots can be a nightmare.
Tree stumps not only deteriorate the look of an area but also pose safety concerns, especially for your kids and pets. Getting rid of unwanted stumps is a must if you intend to use your garden or backyard in any way whatsoever.
Which is the best grinder to rid your patio or backyard of annoying stumps? Samson offers an excellent stump grinder that is especially suitable for removing large, solid stumps.
There are many stump grinders available in the market, but only a handful are powerful enough to remove large stumps. Samson's 15HP Gas Powered Stump Grinder is highly efficient and powerful, and it is perfectly capable of solving all your tree stump problems.
Read on to find everything you need to know about this tree stump grinder!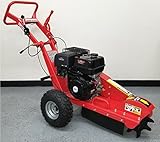 Last update on 2022-02-28 at 15:46 / Affiliate links / Images from Amazon Product Advertising API
Features of the Samson Stump Grinder
Before getting into the in-depth review of the Samson Stump Grinder, here's a quick view of its features:
Equipped with a powerful Ducar 15HP four-stroke 420cc gas-powered engine
Capable of grinding stumps 20.25 inches tall and 9 inches below ground
Has a 12 inches cutting wheel that is 3.55 inches thick and has nine teeth for grinding
It measures 42W x 51D x 72H inches and weighs 220 pounds
Features recoil starting system and upgraded drum braking system
What did we like about it?
We used the Samson Grinder on about half a dozen tree stumps of varying sizes in our backyard to be sure about its performance and concerns. It's safe to say that it does what is advertised by the company and does it well!
We have weighed the pros and cons later to establish why this grinder is one of the best options for you to consider. But first, let's throw some light on what we liked about the Samson stump grinder.
Immense Power
The Ducar gas-powered 15HP 420cc OHV 4-stroke engine provides a max output of 3,600 RPM. We cannot emphasize enough how powerful this beastly engine is, and it is undoubtedly the most significant selling point of this stump grinder from Samson.
The 4-stroke engine works efficiently to keep the 12 inches cutting wheel running in a smooth, fast manner. It would've been impossible for the grinder to remove a couple of large, solid stumps from our backyard if the engine is not powerful.
Easy maneuverability
After using this stump grinder from Samson in our yard, we recognized the importance of its design. The large pipe bow handle provides considerable comfort and better control while moving the grinder through uneven terrain and turning it to either side.
The tires are adequately sized at 13 inches and allow for seamless maneuverability of the grinder. The design includes a protruding lever to the right and a loop on the base that can be used to get it out of tricky spots if it happens to get stuck.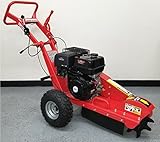 Last update on 2022-02-28 at 15:46 / Affiliate links / Images from Amazon Product Advertising API
Top-notch design
Probably the first thing that you will notice when you look at this grinder is its carefully crafted design that includes some top-notch detailing. It features a bold red and black color that makes it stand out from a distance.
The design includes upgraded twin V belts, large pipe bow handle, upgraded drum braking system, and a recoil starting system. We couldn't ask for more from this product regarding how well each component comes in play for effective tree stump grinding.
High-quality grinding
The cutting wheel is 12 inches high and 3.55 inches thick, making it large enough to combat big, solid stumps. The cutting wheel has nine highly durable teeth – three to the left, three to the right, and three in the center – that allow effortless grinding and removal of even the most stubborn stumps.
We especially liked this grinder as we were able to remove maple, aspen, and white pine stumps that measured nearly 20 inches each in height and width. This grinder is excellent for high-quality, heavy grinding.
Protective Gear
Tree stump grinding is not one of those tasks that all of us can pull off easily. It takes a specific skill set and necessary knowledge to work your way around pesky tree stumps with a powerful machine.
One of the most important things to do is ensuring personal safety during the exercise. Wearing safety goggles, gloves, and heavy-duty boots, and ensuring ear protection with in-the-ear plugs or over-the-ear covers is a must! We appreciate the inclusion of these protective gear products with the Samson stump grinder.
Pros
Pros
Highly efficient for removal of large, stubborn tree stumps
The large cutting wheel and nine best-in-class grinding teeth provide a comfortable and smooth grinding experience
It comes with a one-year warranty
Upgraded twin V belts, 13 inches tires, and a large pipe bow handle provide added control and comfort
Eye and ear protection tools included with the grinder
Cons
Cons
It is not one of the more portable, lightweight designs available in the market
The tires are not the sturdiest and can be upgraded to be consistent with the impressive durability of the grinder
The heavy machine can take a toll and wear you out after moving it around to remove a couple of tree stumps
Final Thoughts
It is essential that you consider the most relevant use of the Samson Stump Grinder before buying it. It is meant for removal of larger, more stubborn stumps; it is heavy and bulky enough to be not portable. If you are looking for a heavy-duty grinder that will not be moved from place to place, this is the perfect product for you.
We strongly recommend that you exercise caution while embarking on your tree stump grinding adventure, especially if you are new to it. Make good use of the protective gear included with Samson's grinder.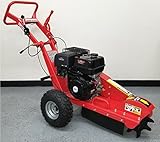 Last update on 2022-02-28 at 15:46 / Affiliate links / Images from Amazon Product Advertising API
Can't make up your mind yet? Read our buying guide for stump grinders before you proceed with your purchase.
You should also check out our reviews of other models: