Bluebird Stump Grinder #SG1314B Review – Honda GX390 Engine
We may earn an affiliate commission when you buy through links on our site.
Many people find it aggravating and exhausting having to dig stumps out by hand in order to expand their garden or even just to have a nice looking lawn. Why use a shovel, an axe or a pick to do a job that a stump grinder can do in half the amount of time? The Bluebird stump grinder is a fast and efficient way to rid yourself of any annoying stumps you have lingering around your yard, without the hassle of having to dig or pick the stumps out. Digging stumps can be a back-breaking work, but it doesn't have to be when you own a Bluebird stump grinder. In fact, with this machine, it becomes so easy to get rid of stumps that you will be actively seeking out stumps to grind, as opposed to decorating them so you don't have to get rid of them.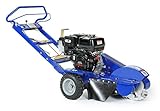 Last update on 2022-02-28 at 15:46 / Affiliate links / Images from Amazon Product Advertising API
Bluebird Stump Grinder Review Nov 2023: Features
The Bluebird stump grinder comes fully loaded with an array of user-friendly features that not only make it easy to use but more eco-friendly as well. These features range from a handle that is back and body friendly to an air filter designed specifically to boost power and cut down on fuel consumption, to a cutting wheel that triples its efficiency with how the teeth are cut. Each feature serves a different purpose, and each one is important to the integrity of the machine.
Recoil Starter
This 389cc beast starts easily with a heavy-duty recoil starter, so you never have to worry about the amount of effort it is going to take you to get your machine started, or if you will get it started at all. This starter is reliable and efficient and is the first step to getting the job done right.
Cyclone Air Filter
The Honda GX390 4-cycle engine comes equipped with a cyclone air filter which makes this engine more efficient while consuming less fuel than similar engines without a cyclone air filter. The cyclone air filter is known to boost combustion, which means that it takes less fuel to start and run your machine, which will save you a fairly decent amount of money on fuel in the long run. The use of the cyclone air filter also means that this machine has more power to put towards grinding stumps, which essentially means less work for you.
Centrifugal Clutch
The centrifugal clutch ensures that a steady supply of power is available for you to grind out even the toughest stumps. This increases the amount of power that you have to work with which makes the job at hand much more manageable. Centrifugal clutches deliver a steady supply of power, which allows you to grind through stumps without having to compensate for a power drop halfway through your work. This allows you to have a steady working pace and confidence in the machine that you are working with.
14″ x 3/8″ Cutting Wheel
Each set of teeth is carbide-tipped and has three cutting edges for maximum cutting efficiency. This allows you to cut through stumps with ease without having to use an excessive amount of force in order to get the job done, saving you time and energy to get on with the rest of your day. In addition to its razor-sharp cutting teeth, this stump grinder has the ability to grind down 12 inches into the ground. This ensures that you will get rid of not only the stump of the tree but most of the roots as well, which works great if you are removing stumps from a potential garden plot.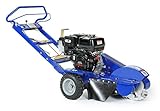 Last update on 2022-02-28 at 15:46 / Affiliate links / Images from Amazon Product Advertising API
More Product Features
The features I have listed above are only a few of the many useful aspects of this machine. The Bluebird stump grinder also boasts a Hayes lever-activated disc brake which makes this stump grinder safe to be used because you will always have control over it when it is in motion and when it stays put. An ergonomic handle allows the use of adjusting the handle to four different settings, so you will never have to worry about straining your back or losing control of the machine because of a handle that isn't very user-friendly. The 12 inches knobby tires allow you to have complete control over the steering and maneuvering of the machine, which makes the job easier and a lot safer. One final touch that is a big help when there are pieces of wood and dirt being thrown by a heavy machine, is the debris deflector that surrounds the cutting wheel of the grinder. This deflector keeps the operator from getting a face full of wood or dirt, keeping their eyes safe.
13HP/389cc Honda GX390 4-Cycle OHV Engine
More power, quieter performance, and lower fuel consumption
OHV design for increased efficiency and optimal power transfer
Easy starting with heavy-duty recoil starter
14″ x 3/8″ Cutting Wheel
Carbide-tipped teeth
Each set of teeth has 3 cutting surfaces
Hi-Power double V-belt drive by Gates
Automatic centrifugal clutch by Noram
Hayes lever-activated disc brake
M1 Cutting Head
Sharper teeth, faster cutting with a unique triple edge cutting tooth design
Three separate edges, tripling the use of the cutting tooth
You can easily grind objects up to 12 inches below the ground
Ergonomic Handle
Adjusts to four different height positions to ensure user comfort
12 Inches Pneumatic Knobby Tires
Makes unit easier to maneuver and turn which increases safety when using the product
Conclusion
All in all, the Bluebird Stump Grinder seems to be a perfect choice for anybody who is hoping to get a well built and effective stump grinder for a fair price. This piece of equipment is ideal for grinding stumps and going that extra bit further, 12 inches to be exact, to ensure that you get the job done right the first time. The many features offered with this grinder are useful and not always offered with stump grinders made by competing companies, making the Bluebird Stump Grinder a great choice for anybody who is looking to buy this kind of machine.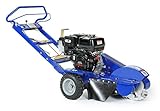 Last update on 2022-02-28 at 15:46 / Affiliate links / Images from Amazon Product Advertising API
Can't make up your mind yet? Read our buying guide for stump grinders before you proceed with your purchase.
You should also check out our reviews of other models: