Husqvarna Riding Lawn Mower Reviews Nov 2023
We may earn an affiliate commission when you buy through links on our site.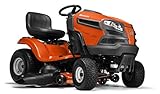 Last update on 2022-02-28 at 15:56 / Affiliate links / Images from Amazon Product Advertising API
When it comes to picking the right mower for a particular trimming job, the choices can indeed feel endless.
With so many models out in the current market, even some professional lawn care experts can be found scratching their heads trying to decide which machine and which brand to go for.
And if all my years in grass trimming has taught me anything, it's that when it comes to a mower, the machine needs to be as reliable as the brand itself.
Husqvarna is one such lawn mower manufacturer that strives towards versatility and customer satisfaction more than anything else.
And today, let me tell you a bit about this brand and review some of their amazing mowers.
Best Husqvarna Riding Mower Nov 2023: A bit about the brand
| Model | Horsepower | Deck Size | Weight | Price | |
| --- | --- | --- | --- | --- | --- |
| YTH22V46 | 22 HP | 46 Inches | 590 pounds | $$ | |
| YTH18542 | 18.5 HP | 42 Inches | 682 pounds | $$ | |
| YTH24V48 | 24 HP | 48 Inches | 590 pounds | $$ | |
| LGT48DXL | 25 HP | 48 Inches | 590 pounds | $$$ | |
When it comes to consistent performance and reliability in the field of gardening tools, Husqvarna has all other brands beaten!
A company that started out as rifle manufacturers all the way back in 1689 is now, after more than 300 years, one of the most prominent designers and producers of lawn care products in the entire world.
However, my trust in the Husqvarna products (especially in their lawn mowers) do not merely stem from their illustrious history alone, but through my own personal experiences with them as well.
When I began my very own lawn care company, it was the Husqvarna mowers that I chose to employ for all my contracts. And I'm not lying if I said that they are yet to let me down on any job no matter how difficult they were. They are one of the integral reasons why my company has grown so much and so fast, and they have been my go-to ever since.
Even though my review today is about Husqvarna lawn mowers, this company does not limit its products to mowers alone. They have a vast range of lawn and garden care equipment to offer, which include everything from trimmers to mowers and even chainsaws.
Husqvarna has been making yards the talk of the town for years now.
So, here are some of my favorite Husqvarna riding mowers which I am sure will appeal to you as much as they do to me:
Husqvarna YTH22V46 Reviews Nov 2023
A significantly more powerful model than the YTH18542 in the Husqvarna line-up, the YTH22V46 mower is a beast when it comes to keeping the larger yards in shape throughout the year.
The YTH22V46 is ideal for professional and commercial uses, and I would not be recommending this model for beginners due to the higher mowing power which many might find to be rather hard to control.
My Experience
I use the YTH22V46 mower a lot when I have to get a tough trimming job done within a very short period of time.
And any lawn care professional worth his/her salt will be able to tell you that full grown Florida grass is one of the toughest vegetations to mow down. So, when I use the YTH22V46 for such jobs, I won't be exaggerating if I say that this mower makes the whole process look easy.
The 22 HP Briggs and Stratton V-twin engine is incredibly powerful; it has full pressure lubrication and a superior debris management system. This allows the machine to breeze through the toughest vegetation, and even tread on slopes with an inclination of 15 to 20 degrees.
Moreover, this engine though boasts a tremendous amount of power is very easy to start and run noiselessly, thereby making the YTH22V46 just perfect for noise sensitive neighborhoods.
Another amazing aspect of the YTH22V46 that contributes a lot to its increased trimming speed is the 46 inches cutting deck. Most mowers of its class have the common drawback of supporting a cutting deck which is extremely narrow. In comparison, the 46 inches deck is rather wide and reduces the trimming time significantly
The Hydrostatic Pedal Transmission keeps the ride smooth and the deck vibration free even while treading on rough and bumpy terrain.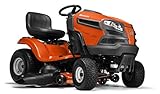 Last update on 2022-02-28 at 15:56 / Affiliate links / Images from Amazon Product Advertising API
What could have been better?
Lack of a sufficiently durable structure is what plagues the YTH22V46. Some of the outer parts such as the steering wheel will start to come loose just after a few months of use and will start to rattle as soon as you start the mower. However, this will not compromise on your control in any way.
Pros
Pros:
Comes with a powerful 22 HP V-twin Briggs and Stratton engine
Provides a smooth and vibration free ride on any terrain
Even though compact in build, supports a 46 inches wide cutting deck
The engine is easy to start and runs without noise
Cons
Cons:
Some of the outer parts of the mower are not as durable
Husqvarna YTH18542 Reviews Nov 2023
When starting out in the field of garden maintenance especially lawn mowing, it's essential to go for a mower which has the perfect balance between power and control. And this is precisely what Husqvarna's YTH18542 brings to the table.
It reminds me of my very first riding mower and comes with a variety of user-friendly features to boast.
My Experience
As I have mentioned before, it's the unique balance between power and control that attracts me so much to the YTH18542. The 18.5 HP Briggs and Stratton Intek engine makes for a sufficiently powerful yet steady ride and allowed me to make quick work of any small to mid-sized lawns in a matter of hours.
Like the other Husqvarna models, this mower too comes with a pedal-operated hydrostatic transmission. This feature allows me to change the speed of the mower quite easily, and go in either forward or reverse whenever I find it necessary.
The induction mowing technology that is built into the engine improves the airflow within the deck and keeps the internal mechanisms of the mower grass and debris free. This improves the trimming consistency along with increasing the overall longevity of the engine, thereby reducing maintenance costs.
What makes the YTH18542 mower so very amateur friendly is the "step-through" operational process that it comes with. This keeps the controls ergonomic and makes the mower extremely easy to operate.
I love the deck seat as well; it's quite comfortable and comes with adjustable back support. It houses a soft grip steering as well which improves the mower's overall control and precision.
The Husqvarna YTH18542 is just perfect for beginners and domestic users who want a stable easy to use the mower for their smaller yards.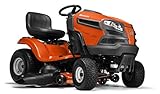 Last update on 2022-02-28 at 15:56 / Affiliate links / Images from Amazon Product Advertising API
What could have been better?
As much as the mower is for beginners and for domestic use, I will not be recommending it for professional purposes at all. The mower is powerful but not powerful enough for commercial use.
Using it for larger yards with a lot of slopes and obstacles may not be a wise choice.
Pros
Pros:
"Step-through" feature keeps the mower highly accessible and easy to use
Balances power and control very well
Induction technology won't allow the mower to break down and get dirty anytime soon
Comfortable deck seat with excellent back support
Cons
Cons:
Not powerful or versatile enough for professional use
Husqvarna YTH24V48 Review Nov 2023
The Husqvarna YTH24V48 is one of the most powerful grass trimming machines in the market and also the most powerful Husqvarna model on my list today. It is a commercial grade mower which is specifically made for the extremely large and rough fields in mind.
It's a lawn care professional's best friend, and I have been using this mower for months now. It has been my go-to for really long and tough jobs like golf courses, football fields, and farmyards, and it's safe to say that I am absolutely in love with this machine.
My Experience
The 48 inches deck size is by far the most impressive aspect of the YTH24V48 mower. It makes trimming the extremely large fields significantly faster, and helps me to complete the job at hand much ahead of schedule no matter how difficult it may be.
When it comes to build, this mower is as durable as the Husqvarna YTH20K42 42 inches mower. Because of the heavy cast iron build and bumper features, I can use this mower for hours at a stretch on rough terrain without having to slow down even a bit.
Just like the other models, the transmission for the YTH24V48 is hydrostatic as well and is operated by a pedal functionality, which makes operating it extremely easy. This convenient gear system helps me have great control over the mower on all forms of terrain. Even if the ground is wet and slippery, all I have to do is drop down to a lower gear to help gain some traction on the wheels.
While the electronically controlled blade engagement system of this mower provides one of the best in blade management, the three blade system, on the other hand, provides excellent quality cut every single time.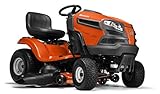 Last update on 2022-02-28 at 15:56 / Affiliate links / Images from Amazon Product Advertising API
What could have been better?
The Husqvarna YTH24V48 mower is an oil hog, and even with a full tank the mower only lasts a couple of hours before needing a refill.
Moreover, after using the mower for a year, I have noticed a few issues creeping up with the engine, which I later found to be a common issue among many other customers.
Pros
Pros:
Can take on grass trimming works on large fields easily
One of the most powerful professional grade mowers in the market
Provides adequate traction on all forms of terrain
Extremely durable and long-lasting build
Cons
Cons:
Not fuel efficient
The engine starts to show issues after a year of use
Husqvarna LGT48DXL Reviews Nov 2023
Husqvarna has been around long enough to become an official American household name that offers breakthrough outdoor power tools to ease the stress of our daily lives. Here are the features that help the LGT48DXL stand out from the typical lawnmowers!
Sharp Looks
Although I've previously tested numerous Husqvarna products, this particular unit carries an X factor that sets it apart. Some claim it to be its sharp looks, and I wouldn't disagree. Its beautiful design and orange-grey color scheme make it a total eye-candy. However, keeping its color scheme aside, this product also features a visually magnificent control panel and cutting deck.
Now, I know that a lawnmower isn't supposed to be the centerpiece of your living room, but why not go for a unit that looks every bit as good as it functions?
Engine Performance
What good is a machine that doesn't boast of a powerful engine? Yes, the Husqvarna raises the standards higher for world-class motor performance with its 25 HP Kohler KT740 engine. Usually, most of the lawnmowers including a few of Husqvarna's own feature Kawasaki motors, which sets this one apart in an instant.
Its efficient V-twin 4-cycle engine provides dependable power for long-term cutting and trimming sessions. Furthermore, I'm pretty impressed with how its breakthrough smart-choke technology makes operating this device a lot more convenient. Its dual-seal air filter also does a great job of protecting the engine from debris.
Cutting Capacity
The best part about the LGT48DXL is how effortless it makes large-scale grass cutting look, all thanks to its triple-blade setting. This product has a unique consistent-cut technology, which guarantees to chop through wet grass with utmost precision. It deserves a thumbs up for its mower blades that feature advanced shafts and agile washout ports. Furthermore, its control panel comes in very handy at enabling the blade engagement.
Long story short, its good looks won't matter much if it doesn't do a good job at cutting grass, but you need not worry about that, thanks to its unparalleled cutting capacity.
Safety and Comfort
I'd rate this product high in terms of ride comfort, as it provides 100% rider control that makes it easier to mow the lawns. Furthermore, its rear seat adjustment setting also relieves me from any back pain while using it.
Last but not least, this product flaunts an all-steel construction body that comes along with an extended 10-year warranty period. That pretty much solves every concern I usually have with a riding lawnmower.
Last update on 2023-09-30 at 05:21 / Affiliate links / Images from Amazon Product Advertising API
What Could've Been Better?
It's a bit disappointing how this product doesn't feature a zero-turn radius feature, which limits its capabilities as a lawnmower by a lot. It could've been better if the product came along with that feature, which would've cut the time it usually takes to mow lawns by half.
Pros
Pros:
25 HP Kohler KT740 engine
Consistent-cut technology
All-steel construction
10-years warranty period
Cons
Cons:
Husqvarna YTH20K42 42 Riding Mower Reviews Nov 2023
Husqvarna's YTH20K42 lawn mower
is specifically designed to fit the needs of both the professional and amateur lawn care enthusiasts alike. Fantastic power, control, and maneuverability are what defines this mower. And it has been an absolute fan favorite in the current gardening tool market for some time now.
My Experience
The YTH20K42 mower is a crowd pleaser in all respects. It is the most versatile model on my list today and comes with features that will compliment both domestic and commercial uses equally.
To start off, let me first talk about this mower's cutting potential and how it can help you customize your lawn the way you want it to.
The YTH20K42 comes with a 42 inches deck which is much narrower than that of the YTH22V46. Though the reduced size might compromise on the cutting speed, it will allow the mower to fit in small, tight spaces quite effortlessly.
The trimming blades also support six different cutting height adjustments at 1.5 to 4 inches increments and will allow you to cut your lawn differently at different areas.
The YTH20K42 is also extremely durable, and I can easily put this mower through hours of rough use without much concern. In terms of design, the YTH20K42 comes with a heavy cast iron front axle for greater strength and stability.
It also has a front bumper which along with the unique air induction system protects the engine from both damage and debris, keeping it active for a very long time.
The deck has a convenient wash port as well and will allow you to connect a water hose through it and clean the underside of the deck. This might help in reducing maintenance cost significantly.
Last update on 2022-02-28 at 15:56 / Affiliate links / Images from Amazon Product Advertising API
What could have been better?
Considering the target customers and the price that it comes in, I really don't have any major issues with this mower. Apart from some minor assembly problems and the implementation of a lever speed control system instead of a pedal speed control system which makes it more time-consuming to get used to, I honestly have no other complaints.
Pros
Pros:
The most versatile mower on the list
Fits both amateurs and professionals equally well
Extremely durable build and design
Will help you customize your yard the way you want it to
Cons
Cons:
Need to assemble a lot after delivery
Lever speed control systems take a long time to get used to
| Model | Horsepower | Deck Size | Weight | Price | |
| --- | --- | --- | --- | --- | --- |
| YTH22V46 | 22 HP | 46 Inches | 590 pounds | $$ | |
| YTH18542 | 18.5 HP | 42 Inches | 682 pounds | $$ | |
| YTH24V48 | 24 HP | 48 Inches | 590 pounds | $$ | |
| LGT48DXL | 25 HP | 48 Inches | 590 pounds | $$$ | |
Final Thoughts
Husqvarna has always kept customer satisfaction above everything else. They know that not one particular mower will be able to fit all user needs and demands, so they have come up with a model for every occasion and situation.
And I am confident that the ones I have listed today will be able to fill all your grass trimming needs.
I hope you enjoyed my review today.
Till next time!
Can't make up your mind yet? Read our buying guide for riding mowers before you proceed with your purchase.
You should also check out our reviews of other models: